Bankers Advertising Articles
November 26, 2014
What are you thankful for? Click here for a free printable – and get your family involved!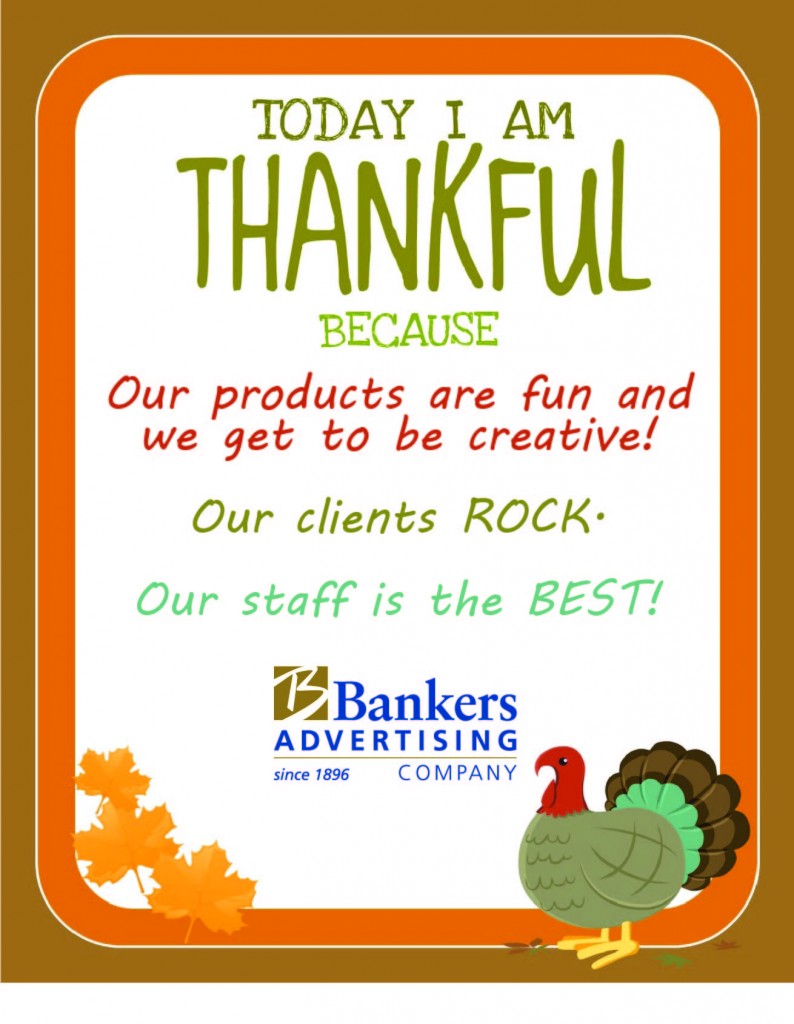 November 13, 2014
Promotional Calendars are literally a billboard for your message. Did you know that 70% of logo product sales are made up of promotional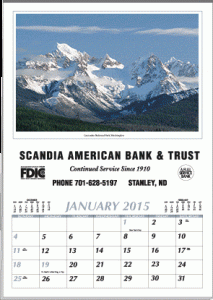 calendars? So… what does that mean? It means that 70% of businesses who're incorporating logo products into their marketing mix are using advertising promotional calendars. It also means that your competitors are likely using these powerful little marketing tools.
With that being said, it is TIME to think about promotional calendars. The year is coming to a close, and it's time to think about how you can thank your customers for this year's business. It's also a good way to send loyal or new customers into the NEW YEAR thinking about you from the very beginning. If this isn't enough to convince you, here are 4 more reasons you need advertising calendars for your business in 2015:
Timely…
There is no gift or product that is timelier at the year-end than the promotional calendars. Your customer's 2013 calendars are about to expire. Plans for next year are already in the works! A new calendar is sought-after, appreciated and put to good use immediately at home or work (or both)! People know EXACTLY who gave them their calendar last year… did it come from you? It should!
Personal…
Calendar advertising is the definition of personal advertising. Whether distributed in person or by mail, the advertising calendar is referred to daily, multiple times becoming an integral part of the recipient's life. We offer many logo products to select from, but promotional calendars are the ONLY ones that are in your customer's lives 365-24-7.
Engaging…
People always respond favorably when they're presented with a product they deem valuable. They're engaged from the START. You're the advertiser, and you're getting the opportunity to "engage" with your recipient every time the calendar is used.
Shareable…
Promotional Calendars are seen and tell YOUR story to numerous people every day – family, friends, guests, colleagues, and more. The calendar constantly tells people about who YOU are, where YOU can be found and the products or services YOU offer.
If you haven't incorporated calendars into your quality logo product stash, now is the time to do it!
Need we say more? Check out our product database to peruse the calendar options available to customize and order! Looking for something super special? We've got 100's of additional options available to you. Simply give us a call at 319-354-1020 or email us at sales@bankersadvertising.com. We look forward to serving you!
November 4, 2014
Iowa City, IA, October 31st, 2014 — Bankers Advertising Company, www.bankersadvertising.com, a promotional products distributor has been recognized by the Promotional Products Association International (PPAI) as a Powerful Partner.  Bankers Advertising, along with three other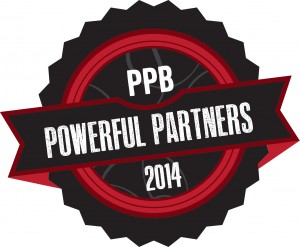 promotional products industry companies, was chosen for their keen ability to forge collaborative partnerships with their suppliers through clear communications and a higher level of creative selling.
This fall, PPB Magazine asked industry supplier readers to nominate distributors who exhibit the best examples of true teamwork. Bankers Advertising Company was nominated by Cedar Crest Manufacturing – an imprinted writing instrument supplier in Cedar Rapids, IA.
Douglas C. Miskimen, President at Cedar Crest Manufacturing submitted a nomination to letter to PPBstating, "In its 113th year of existence, Bankers Advertising committed to distributing our brand new line of writing instruments. Sales steadily grew over the ensuing four year period… This dedication for our start-up company had a dominoes effect on helping us get established in the industry. A high level of business integrity and professionalism is demonstrated consistently by Bankers Advertising Company."
Bob Kral, Vice President of Marketing at Bankers Advertising said, "We are honored to receive recognition for our partnerships within our industry. These relationships make a powerful impact on our ability to serve our clients with the best in promotional solutions, quality products and fair pricing,"
Established in 1896, Bankers is one of the oldest and largest promotional products distributors. Bankers specializes in providing promotional products for marketing, tradeshow promotions, sales meeting supplies and communication tools, business gifts, awards programs and advertising calendars.  For more information about Bankers, call (319) 354-1020 or visit www.bankersadvertising.com.