Our 2016 Gift Guide includes 20 pages of promotional products from almost all categories and includes many new, mid-year items, latest trendy gadgets, apparel and more. Now is the time to start thinking about how you'll make sure your customers and team members feel extra special this year, all-the-while enhancing your brand's power.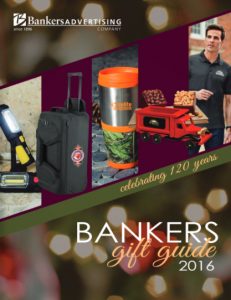 We feature a variety of apparel from polos, wovens, to fleece and jackets. Even though the weather is still warm, talk to your Bankers Advertising Consultant about your 4th quarter winter apparel needs before it gets cold! We also have you covered with headwear this year. Caps are walking billboards for your customer's brand.
Be sure to check out one of our new favorites, the #C819 PortAuthority® Pigment Dyed Camouflage Cap, which features the look of oil cloth at a much lower cost. These items are all decorated right here at Bankers Embroidery.
Here are few of our favorite items that we want you to be sure to notice.
Coast Cooler Tote from Starline
This is a neat new item that you need to see. It has an eight can insulated cooler area compartment, front zipper pocket with key holder, two slash felt lined pockets to protect sunglasses or small portable devices, two Velcro pockets, a main tote area with mesh sides for ventilation, a bottom opening for towels, yoga mat, etc. A very unique and versatile design that your end-user will be sure to love.
Koozie Hot and Cold Kooler
This is a kooler for all seasons. Can be used for transporting hot casserole, or cold desserts. Fits a standard 9" x 13" pan. Very practical item for all audiences.
Native Wooden Copper Vacuum Insulated Bottle
This gorgeous drinkware item features a neat new trendy wood design. This bottle is similar to the SWELL retail bottles and is a double wall lined with copper so has superior insulation.
Want to try something super unique? … consider this. Matte finish body and natural wooden handle are combined with black coated stainless steel band.
Full Color Chocolates
These are a NEW item. Chocolate Inn now offers full color printing on the actual chocolate. WOW the recipients while creating a memorable gift.
Jediah Realtree Xtra® Hand Warmer
You have to check out this item! It's a fun, exciting piece and one of our top favorites. Keep your hands toasty warm with this hand warmer.
Trends in tech accessories continue to grow at astounding numbers. From Bluetooth speakers, power banks, headphones or accessories. These items are in high demand and make a very nice gift. We have all these types of products featured in our Gif Guide this year.
This item doubles the utility of a single port. It accepts microUSB cards so you can transfer your files to a computer. This works well taking from phones to computer. It is also compatible with the new USB Type C ports.
We're following retail trends and featuring hot new tech pieces to promote brands. Think of these for executive gifts, top donor gifts, board of directors, etc.
Remote Control Drone with Camera
We offer promotional gift ideas for every occasion that will make a lasting impression. It's certainly not too early to start discussing your options and your plan with your Bankers Advertising Promotional Consultant!
Click here to view our complete gift guide!