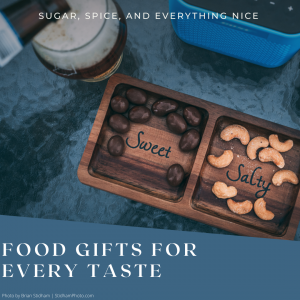 The holidays are a time to celebrate your customers, associates, and employees who have contributed to your success. Food gifts draw attention, are affordable, and appeal to all people.
Food gifts are the #1 holiday business gift.
Make your holiday food gift-giving convenient.  Instead of sending an employee to a retail store or spending time on the internet trying to find the right gifts, you can purchase your business gifts from Bankers.
Keep it fresh! Fresher gifts taste better (and say something nice about the sender). Our gifts are packed to order just before the order is shipped, not made up many months in advance like so many gifts from mail-order and retail giants.
Promote your company's brand on your gift! When your recipient opens their gift, the first thing they'll see is your logo. Your logo or message is included on every gift.
We understand what it takes to deliver a superior holiday gift program — gifts that will delight the senses and bring a smile to the face of every recipient. We are happy to build a customized food gift program for you that allows you to choose your food item, price point, and packaging.
Check out these great tips:
---
Gifts for individuals vs. gifts to be shared
When purchasing corporate holiday gifts for individuals, you may want to consider hams, smoked turkeys, or other gifts that require preparation in the kitchen. However, when selecting gifts for an office environment, options like gourmet towers that can be opened and shared at once are a better choice. Think of your gift-giving strategy as any marketer would think about their advertising strategy. What are my audience's preferences? Are there different personas within my audience that I should be aware of? What sort of message do I want to convey?
The correct gift size
Choosing the right‐sized gift is an important step. Sending a 12-piece box of chocolate to an individual is fine, but if it is to be shared in an office with 30 people it won't go very far, so it's important to select gifts tailored to fit the recipient. When sending gifts to be shared, you will want to send a gift that includes enough for all. It's better to err on the side of sending too much than too little. Also consider if you want the gift to last past one day. Do you want your customer and their staff to enjoy a gift for several days or even a week, or is it your strategy to make a significant impression on day one, and that's all that is required?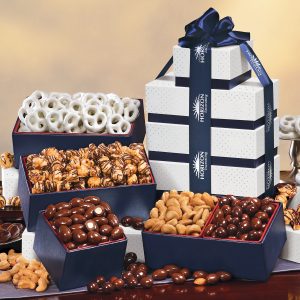 Branded gifts
Sending a gift that features your company's logo on the packaging adds a classy touch and shows that you put extra  thought into the gift selection. It also helps build your brand. If you're sending gifts to individuals, you may want to   consider gifts that include a branded item that will be retained long after the food has been enjoyed, such as a cutting board, desk accessory or collectible wooden truck. By incorporating your logo on the gift, whether it's a keepsake that stays in the office or travels to a customer's home, having that logo visible will generate impressions day after day, and will enhance your brand at a far lower cost than an investment in, say, traditional media.

Special considerations
Do some of your customers or employees keep kosher? If so, you may want to select gifts that are certified kosher. Veganism and nut allergies are also key considerations to keep in mind.
In this new COVID-19 environment one should consider sending smaller gifts to the recipients' homes rather than larger gifts to be shared in the office. If you do choose to send gifts to be shared in the office, you may want to consider our gifts that feature individually wrapped and single-serve items, all with the same gourmet quality as more traditional gifts.
---
HOW TO CHOOSE THE BEST METHOD OF DISTRIBUTION
Personal delivery of gifts, when possible, is the best way to distribute them. However, because of time, logistical constraints, and of course ongoing uncertainty and complications due to the current pandemic situation, this option is not always possible. Fortunately, there are a number of other ways to get gifts into your recipients' hands. But, as is always the case, the further ahead you plan and act, the easier and less worrisome — and in some cases, less expensive — your distribution costs will be.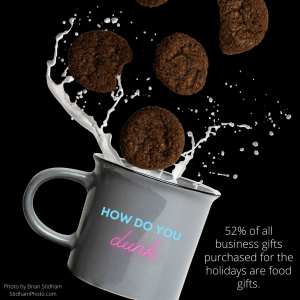 Shipping gifts from your facility
Shipping gifts from your office or shipping department has certain advantages, but this is assuming you have all of the resources and the staff available to undertake this task; some companies, particularly those in the professional services sector, might not have these necessary resources available.
Shipping directly from the vendor
There are a variety of situations in which it's best to have the vendor ship the gifts for you:
Perishable Gifts If you are ordering perishable products like hams, smoked turkeys, or natural cheese packages that require refrigeration, it is generally best to have your vendor ship those gifts directly to each recipient. It can be difficult to receive a shipment of perishable gifts at your facility, and then turn around and get them delivered to the recipients quickly.
Tight Timeline If you are on a tight schedule and there simply is not enough time to receive the order and reship the gifts to your customers, shipping directly from the vendor can save you valuable time and ensure that your gifts are delivered when you want them. Bankers can work with you to make certain all the shipping arrangements are in proper order.
Large Orders If your order is large, it may be unmanageable to handle the shipping yourself. It is easy to ship an order of 24 gifts. But if you're ordering 240 gifts, it may simplify the process to have the vendor handle the shipping. If it's an order for 2,400 gifts, you will almost certainly want to have the vendor do the shipping to avoid becoming overwhelmed.
---
Let Bankers help you build a food gift program that reflects your needs and values! In this season of giving, we're proud to be part of your outreach and gratitude efforts. Together, we'll make certain your brand will never be forgotten! Explore our website for great food gift ideas.