It's beginning to look a lot like… Thanksgiving! The cooler air is sweeping in, football season is well on its way, and the leaves are turning beautiful colors. Business greeting cards are perfect for relaying greetings to clients and employees during the holiday season.It's natural to send holiday cards in December, but consider for a moment that Thanksgiving is a better time to say "thank you" to clients. After all, Thanksgiving is all about giving thanks. Sending a Happy Thanksgiving card sets you apart from the crowd.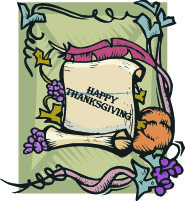 Receiving greeting cards, no matter the time of year, is always a nice gesture. In the age of technology, where millions of impersonal emails are transmitted every day, it's exciting to receive an actual card in the mail. It shows that the sender took time to address the envelopes and sign the cards. It's the personal touch that everyone enjoys but yet seems to be lacking in today's business world.
Perhaps the only downside to sending greeting cards is that they tend to get recycled at the end of the holiday season. Even a beautiful card with a meaningful sentiment typically will not be displayed year round. So while sending holiday greeting cards is wonderful and personal, consider adding another personal touch with a 2011 Square Stick-A-Strip calendar inserted into the greeting card. It will stick around all year long! The Square Stick-A-Strip calendar is sized perfectly for most laptops and fits nicely inside a standard greeting card without adding to the postage cost. You could also insert a Magnetic Photo Frame from BAC Promotional Graphics into card. A magnet is another product with staying power that will also be appreciated by the recipient.
Here at BAC Calendars, we provide everything from custom calendars to greeting cards. Customizing your cards will certainly make an impression.

The holidays are a great time to offer appreciation to the people you do business with all year long, and greeting cards are a personal way to say "thanks" and "keep in touch."
Written by Erica Kelley-Gogel, CAS | VP of Sales | Bankers Advertising Company