As we get closer to Christmas, it has me thinking about good ole Santa Claus. Jolly St. Nick has created one of the most famous and loved brands around the world. No matter your age or where you live, we all can't wait for Santa to come. I think we can all learn a few things from the big guy, in my opinion he is a master marketer.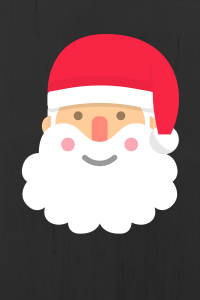 Santa has a solid brand, raving fans, is trustworthy and continues to grow his Christmas Empire! He isn't just for children, every person likes to feel a little Christmas magic. Marketing Secrets from Santa Claus: Recognizable Brand Everyone knows who Santa is. People get excited when they think, hear or see Santa. They know what Santa stands for. Santa's brand is recognizable all year long from his red suit, belly laugh, snow white beard, shiny black boots and his jolly "Ho, Ho, Ho!". Santa's message is known by all. What are you known for?
It's important that your customers easily recognize you and your brand. Customers need to know what you do and who you are. Who doesn't think of Santa and smile? He always surprises and delights us. Remember to find that "something extra" and leave your customers smiling.
Be Reliable –
Keep Promises Santa Claus is coming to town. Most of us wake up Christmas morning, year after year, to see what Santa has left for us. Every year, no matter what, Santa doesn't let us down. It doesn't matter where we are or what is happening in the world, Santa is there. Now is the time to ask ourselves – how reliable are we? Like expectant children on Christmas morning, our customers have high expectations of us and it's our job to deliver. Remember – don't do things halfway. Commit, be reliable and dedicate yourself or step away. Suggestion – make it a habit of asking your customers if they've ever been disappointed in your service. What areas can you improve upon, what services or products would they like you to offer?
Build Lists –
Santa's making a list and checking it twice! He finds out who is naughty and nice. This reminds us that it's always important to make a list of our clients. Do you have a naughty and nice list? Which clients are easy and fun to work with vs the clients that are difficult and never satisfied? By making a list and fully understanding each client, this will help you know which customers are the most profitable and should be focused on. Santa rewards for good behavior. Maybe you should too.
Sell More Than Your Product –
Santa sells more than just presents. He sells hope, cheer, happiness and the desire to be good. He inspires us all. In your branding efforts, you should be selling more than products. You have a whole bag of presents for your customers. Remember to let your customers know what's in your big red bag. Most importantly….remember to sell you! Santa's Team – Elves and 8 Reindeer Santa wouldn't be Santa without his team. Do you think he would be able to read all those letters, be painstakingly reliable or jolly and bright if he didn't have a team to help him with all his Christmas responsibilities? Of course not, that is what a great team behind you is all about. Bankers enjoys being part of your team.  No one ever built an empire alone…not even Santa. Be sure to use all of the branding resources we have available to help you prosper in the New Year. As we head into the New Year, think about Santa and learn from the best, implement the right tools and strategies and you will soon be creating your own world of magic.