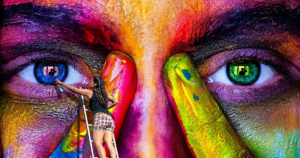 Every October since 1993, the U.S. has celebrated National Arts & Humanities Month, a perfect chance to think more deeply about the effects that participation in the arts and humanities have on us each as individuals. Part and parcel of that, of course, is the effect they have on professional lives! The arts, of course, are vital to personal development, but we're here to talk about promo — and like so many other industries, the arts run on promo.

Here at Bankers, we have seen some fantastic orders for arts organizations. T-shirts for community theaters, for example. We've done holiday ornaments for dance companies. I've seen colored pencils branded for a university art museum that was breaking ground on a new location.

We'd like to send a big THANK YOU to our current customers in these fields, as well as an invitation to arts professionals to take a look at what we can offer. Our sales partners are creative professionals, too, dedicated not just to selling product on demand but to developing innovative solutions to your marketing needs and finding ways to bring your own wild ideas to fruition.

We love working with arts and humanities organizations — private or public, for profit or non-profit — because the nature of that work often leads to a deep understanding of the value of physical advertising! And we've found that arts orgs are willing to take interesting, creative risks. A publisher might want a unique product giveaway for readings, to tie in with an unusual book they're promoting. A gallery may want unconventional rewards for donors to a capital campaign. A record label or band could be interested in something that dovetails with packaging or theme on an album.

We have a wide variety of items to make us your source for ALL things branded.

The National Assembly of State Arts Agencies lists the goals of National Arts and Humanities Month as:
create a national, state and local focus on the arts and humanities through the media;
encourage the active participation of individuals, as well as arts, humanities and other interested organizations nationwide;
provide an opportunity for federal, state and local business, government and civic leaders to declare their support for the arts and humanities; and
establish a highly visible vehicle for raising public awareness about the arts and humanities.
If you're not part of an arts or humanities organization, we encourage you to take time this month to patronize your local theaters, galleries, or music venues (and remember that formalizing your support of the arts is both great publicity and an excellent co-branding opportunity!). If you are in the arts, Bankers is here to help you with all of your promotional needs this National Arts and Humanities Month!