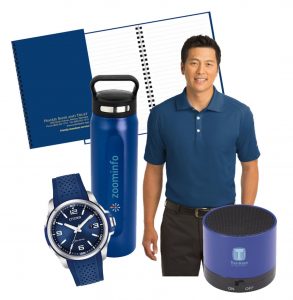 It's the most wonderful time of the year! Wait, what? Are there holidays happening, too? No, I mean the Pantone Color of the Year announcement! Every year, the color mavens at the New Jersey-based Pantone Color Institute analyze trends and dive deep into art, culture, and lifestyle around the world to arrive at their pronouncement for Color of the Year, a hue that then goes on to spark its own trends and influence a multitude of different industries, including fashion, industrial design, and of course: promo!
Pantone made their 2020 announcement this year early evening of Dec. 4, right around the time when the normally softer sky deepens and darkens to just this shade: PANTONE 19-4052 Classic Blue. The elegant and emotive color of twilight will be everywhere we turn next year, and I for one couldn't be happier! It's just a titch lighter than our beloved Bankers blue, but we can forgive that.
In their announcement, Pantone calls the color "timeless and enduring." Blue certainly has had a host of connotations over the years, from honesty and trust to calm and concentration. A 2012 University of Maryland study showed that 42 percent of men and 29 percent of women chose blue as their favorite color (the highest percentage of any color for both). Studies going as far back as 1941 have shown the same, a 2017 Artsy article claimed, going so far as to call it "the world's favorite color."
For Pantone's part, they see it as both "reassuring" and "thought-provoking," banking on their Classic Blue to "bring a sense of peace and tranquility to the human spirit." They believe that it will resonate with "our desire for a dependable and stable foundation on which to build as we cross the threshold into a new era."
Pantone Color Institute Executive Director Leatrice Eiseman doubles down on these ideas with her ode to Classic Blue: "We are living in a time that requires trust and faith," the announcement quotes her. "It is this kind of constancy and confidence that is expressed by PANTONE 19-4052 Classic Blue, a solid and dependable blue hue we can always rely on. Imbued with a deep resonance, Classic Blue provides an anchoring foundation. A boundless blue evocative of the vast and infinite evening sky, Classic Blue encourages us to look beyond the obvious to expand our thinking; challenging us to think more deeply, increase our perspective and open the flow of communication."
That's a tall call for a color, but Classic Blue seems more than up to the task. And it's certainly comforting to have both a clear vision and clear skies to look ahead to in 2020. Such a classic color also will be straightforward to find in products, making it easy to integrate into promo marketing programs right away.
And it's perfect for the season. You can even get a head start on next year and have a "Blue Christmas" in a few weeks!