On Monday, Aug. 10, a derecho (essentially an inland hurricane) barreled through the Midwest, leveling some of its worst damage, with sustained 100+ mph winds, as it passed over Eastern Iowa, including Iowa City, where Bankers HQ is located. We were largely spared — some staff were left without power at home, some lost trees, but our office is unscathed. We were lucky enough to keep power and internet service, although many in our city remained without for several days.
Just half an hour North of here, where a few of our suppliers are located, as well as several of our sales partners and customers, the situation is a lot more grim. The entire city of Cedar Rapids lost power. Many are still, two weeks later, without internet, and cell service is spotty. Lines at the few working gas stations were hours long that first week. Sales partners and customers across the state of Iowa have been affected to varying degrees by the wide swathe of the storm.
When friends and neighbors are facing devastation like that, it's easy to feel helpless. It's the same feeling we all feel, as a nation, as we trudge through month five of the COVID-19 pandemic. But feeling helpless, while entirely natural, gets us nowhere. I am a member of Delta Gamma sorority from my long-ago college years, and our motto is Do Good. I think of that motto frequently in these times of tragedy upon tragedy. It's so simple, but it's our best, and often only, choice. And one powerful way to do good is through promo.
A recent article from industry organization Advertising Specialty Institute proclaimed and celebrated "swag's ability to bring people together." It tells the story of a promo rep who lost a sister to opioid addiction, and who leveraged her knowledge of the industry to support her family's initiative to honor her sister's memory by "bring awareness to the disease of addiction." She created a whole array of products for supporters, including T-shirts, balloons, hats, silicone bracelets, and fidget spinners.
"With the notions of social justice and helping others at the forefront of our minds in these difficult times, there are constant reminders of how merchandise with a message can be used to bring people together," the article — which goes on to highlight several campaigns which have worked to support causes from racial justice to cancer awareness to supporting the 2020 Census — states. "Branded swag shows the wearer to be a supporter and a member of a community united around a cause."
Bankers has participated in initiatives like these as well: T-shirts for local business collaboratives, signage for area high schools, and more. It means a lot to us to be plugged into our community. And we're proud of the ways in which many of our sales partners and customers use promo to support the causes dearest to them, as well.
A new partnership from one of our Preferred suppliers highlights another way that promo is uniquely positioned to help ease feelings of helplessness. Their just-announced American Red Cross preparedness line offers a variety of Red Cross brand first aid kits, bundled with hand sanitizer and attractively packaged. Most significantly, a portion of the proceeds from each sale goes back to the Red Cross to support their mission to "prevent and alleviate human suffering in the face of emergencies by mobilizing the power of volunteers and the generosity of donors."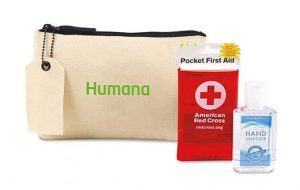 The American Red Cross partnership joins other initiatives like that with MiiR®, which donates 3% of their revenue from product sales to clean water and community initiatives, and another vendor's ecoSmart® line, which partners with 1% For The Planet. Other supplier partnerships include the Basecamp® line — which donates to the Wounded Warrior Project, an initiative that supports veterans and current armed services members with physical or mental injuries and illnesses — and the PatriotTM brand, which also supports veterans—a full 20% of net proceeds goes to Homes for Our Troops, which builds custom adapted homes for severely injured veterans. (Either would make an excellent choice for a Veterans' Day (Nov. 11) promotion, by the way!)
Other programs and partnerships like these exist across our industry, offering myriad ways for companies to give gifts that give back and helping both givers and recipients feel like they're part of something bigger than themselves.
As professionals in this industry, Bankers cherishes the fantastic opportunity we have to be at the crossroads of possibilities. We have our fingers on the pulse of a cross section of society, with customers in nearly every possible business and industry. Through conversations with customers, we are perfectly placed to see and respond to the need around us. And we have a deep education in the wide variety that our industry has to offer, giving us the knowledge of what is available to best fill those needs. That knowledge is power, a power that we can leverage to support and lift up those around us.
Through gifts that give back and products that can carry the message of a movement, the promotional products industry both contributes to and helps to create community. In my mind, that's the best good you can do. Contact us today to find out how we can partner with you to do good.