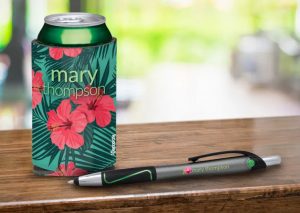 It's easy to understand why people love personalization. There's just something about seeing your own name on a promotional product or marketing piece that makes you feel special. But there are real psychological factors behind our personalization preference. A study from the University of Texas attributes information overload and desire for control as two key factors.
Information Overload
When you know an item is chosen specifically for you, it provides a manageable choice
Personalization presents exactly what you are looking for, so you don't feel bombarded with information
Desire for Control
A personalized experience is different from the status quo
When you get something tailored to you, it makes you feel more in control
Even if it is only perceived, people who feel an internal sense of control tend to be more successful
---
The New Added Value of Personalization
While everyone does their best to navigate the COVID-19 public health crisis, the desire to control what we can is even greater. Communities and businesses are implementing health & safety protocols to help mitigate the spread of germs, and everyone is more aware of the surfaces and objects they touch throughout the day.
When imprinting with digital processes and full color methods; names, dates, addresses, photos, and more can be easily individualized on promotional products. Personalization on everyday items could also help mitigate germ spread when people return to group settings. Here are just a few ways to use personalized promotional products to make an even bigger impact during COVID-19:
Provide employees with personalized drinkware or writing instruments when they return to the office, in place of communal mugs and common-area pen cups.
Imprint a QR code right on a promotional item that takes recipients to an individualized web page where they can learn more about business operations and safety measures during Coronavirus.
Get people excited for virtual events with a mail-ahead promo "save the date" like a personalized magnet, Koozie® can kooler, or earbuds they can use during the event itself.
Keep your brand front and center while promoting safe behaviors with personalized PPE like full color face masks or mask extenders.
Check out all the innovative options available for personalized promo products that will help you make a memorable impression in the new "own it" market.
Article courtesy of BIC Graphic Blog
---
We have been talking about personalization for several years, and now more than ever it is time to review these options. Personalized products aim to appeal directly to the recipients' emotions. They strengthen your brand, connection, loyalty, purchases, and referrals.
Think about personalizing your gifts and giveaways, whether it be for safety and wellness, thank you gifts, employee appreciation, holiday gifts, etc. Now is the time stand out from the crown and show your appreciation.