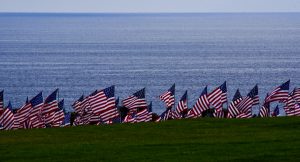 As a tumultuous election season came to an apparent end over the weekend, one event rose to prominence in the public conscious: a press conference featuring members of President Trump's team, held at Four Seasons.
No, not the Four Seasons, as in the hotel. At Four Seasons Total Landscaping — more precisely, in the parking lot behind the small, family-owned Philadelphia business. The business was proud to host the presser, and many members of the press showed up despite confusion about the unconventional location.

The content of the event is likely to fade into history, but something surprising and memorable did come of it: an explosion of promo opportunities! By the end of the day, multiple independent sellers had set up merchandise stores to fill the growing demand for tangible reminders of the surreal moment. Many of them were not keeping the profits, but selling the merch as a fundraiser, with proceeds going to Democratic candidates in the upcoming Senate run-off elections in Georgia. They used the name, but created their own humorous or ironic designs and slogans, including one with Philadelphia Flyers mascot and Philly icon Gritty riding a lawn mower.
By the following day, Four Seasons Total Landscaping itself had set up a merch store on its website, with a variety of shirts featuring its logo, some patriotic themed apparel, and one shirt and sticker featuring the tongue-in-cheek slogans that had arisen on the internet in the wake of the event: "Make America Rake Again" and "Lawn and Order."
There are some fantastic business lessons here:
Grab Hold of the Moment: It began with clever opportunists seizing on something that had captured the public's attention. But the agile flexibility and astute willingness not to take themselves too seriously of Four Seasons Total Landscaping allowed them to jump into the fray as well. In addition to the merchandise site, they also put in the time over the weekend to create a Twitter page for their business, to counteract a fake page that had gone up (and was asking for money) with their info. It must have been quite a busy weekend, especially fielding press phone calls on top of it all — but Four Seasons rose to the occasion!
Go With What You Know: Four Seasons kept their merch site to a handful of T-shirts, a hoodie, and a few stickers. They kept it simple and largely in line with things they had ordered in the past — and they noted on their Facebook page that they ran all of the shirts through the small Philadelphia screen printer that they had always done business with. It's a smart move to trust the people you've always trusted, even when you see a sudden surge in business. And loyalty, especially among local companies, is always good business.
Yes, And …: It's an old lesson from improvisational theater that applies so well to business. Never say no! If you can find a way to make it work, make it work. One would imagine that the average landscaping business, if asked to host a presidential press conference, would leap to find all the ways it couldn't work, no matter the honor. Four Seasons found a way to say yes. That was their first right move, and a skill that all businesses can cultivate — and it's especially important as we're all trying to find new ways to grow during unforeseen circumstances. If someone comes to you with a wild-seeming ask, don't ask, "Why?" ask, "How?"
If saying, "Yes!" to all opportunities seems out of reach right now, at least commit to considering even the most out-there ideas. You never know when an unconventional choice will put you in the right place at the right time. Make sure you have the agility to take advantage when an opportunity presents itself. And make sure to partner with people you trust — like Bankers!