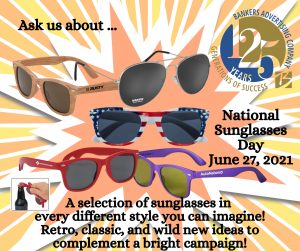 You can't deny the unassailable cool that comes with donning a stylish pair of shades — and with your branding on the stem or lens, you can be part of the fashion-forward statements of all your fans. But looks aren't the only benefit. You'll be offering protection from a whole host of sun-related eye damages; UV damage can cause macular degeneration (a leading cause of age-related blindness). The sun can also be to blame for eye cancer and the sunburn-like photokeratitis.
Designer Karl Lagerfeld is quoted as saying, "Sunglasses are like eye shadow: They make everything look younger and pretty."
Hand out an accessory that completes any look. We have a multitude of options. And remember to wear your shades this Sunday, June 27 — National Sunglasses Day!