Our Fall Guide came out recently, and we hope you're as excited as we are to peruse the new items and classic product trends of the year! We asked our team what their favorites are and here's what they said!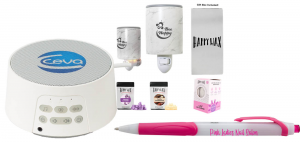 #HAPPYWAX Outlet Plug-in Wax Warmer Kit (pg. 6) – This plug-in warmer comes in a nice box that includes one wax warmer and two scents. The silicone wax dish makes it easy to pop out the old wax and put a new one in. I think this item would be suitable for almost anyone. Who doesn't like a soft scent in their home or office? With the low minimum of only 12 pieces, you can't go wrong.
#100927-100 R & R Sound Machine (pg. 6) – Looking for "something new"? Well, look no further, this is the perfect new gadget. Relax and unwind with 24 soothing sounds to bring calming energy to any environment. This sound machine includes 6 various white noise options, 6 fan sound options, 12 soothing nature and calm-inducing sounds such as crashing beach waves, the ocean, crickets, rain, thunder, birds and so many more. My grandson has something very similar to this that he has used since he was born. I make sure that when he comes to stay with me, the sound machine is the first thing they pack. It is awesome!
#BX910-XX Glidewrite Pens (pg. 18) of the Guide is by far one of my favorites. Not only does this smooth writing pen have a Techni Flo super-low viscosity ink for easy writing but it comes in 14 fantastic ink colors. The ink color matches the trim and latex-free grip. Match your logo color with the ink color for a little pizzaz.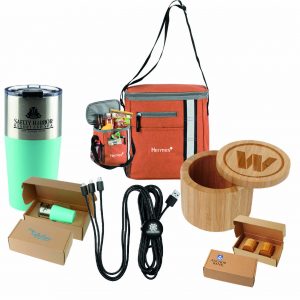 #IT175 Light Up Your Logo Cable (pg. 13) – My charger that I loved finally bit the dust. I loved it because I knew when it was lit up, I had everything plugged incorrectly. The #IT175 Light Up Your Logo Cable caught my attention because the logo lights up when charging. It includes the USB-to-USB Type C, Duo 5-Pin Lightning and Micro USB Cables. It features a 10' cord which is wonderful. I can plug the cord into the end of my couch and easily use my phone. The cable reaches to furniture nearby to set the phone on when charging overnight. Very nice piece!
Great gift for those employees working from home.
#FB8103 Day Trip Lunch Bag (pg.21) – I chose this item because I was interested in seeing what it was like. This lunch bag is a bigger size with a top zip main compartment, two front pockets and a side mesh pocket. The size is very nice, and I love all the pockets. The #SM-2225 Wheat Straw Utensils to Go Set fits nicely in the zipper pocket. This would make a great employee appreciation or Christmas gift.
Since Holiday Season is just around the corner the two gift boxed items from Evans caught my eye.
#4970 Whistler Stainless Steel Tumbler with Gift Box. (pg. 23) – includes an 18 oz. Stainless Steel tumbler that is double wall vacuum insulated. It has a splashproof flip lid and is sweat-resistant. The tumbler is available in seafoam, black and blue. It keeps your drinks hot or cold for hours. The price includes a 1 color imprint on the top of the box which can be left-center, center, or on the flap and the tumbler comes with a one-color imprint on one side, two sides or a full wrap.
#2312 Bamboo Slide Lid Container Gift Box Set (pg. 12) – This Gift Box Set features two round salt boxes which have magnetic closure slide lids to ensure a tight seal. These would be perfect for storing spices in the kitchen, office supplies such as push pins, paper clips and rubber bands on your desk, or keeping bath salts near the tub. These come in a printed recycled gift box. The price again includes a 1 color imprint on the top of the box which can be left-center, center, or on the flap and laser engraved on top of the containers.
This set can be drop shipped. Contact us for more information!
Both sets would be ideal customer appreciation, employee recognition, years of service, or anniversary gift. The tumbler would also make a nice meeting gift.
Check out our Fall Guide here and contact us for more information!