We are excited to share our Fall Gift Guide favorites. We encourage everyone to place orders soon. Use our team's top picks to suggest ideas for the special groups of people you want to celebrate this year!
Kevin:
#T309TS Portable 24-Piece Tool Set (pg.8) – How many times have you found yourself needing to make a small repair, but you don't have any tools handy? If you're like me, it happens more than you'd like. This kit is perfect because you can store it in a vehicle, your kitchen catch-all drawer, basement or garage. You won't build a house with it, but it will fit the bill when it comes to minor repairs!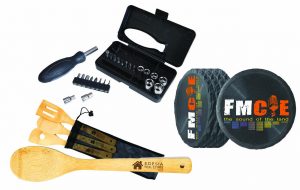 #HW96UK Chun Utensil Gift Set (pg. 12) – My wife is a realtor, so I always keep an eye out for items I think would make great gifts for her clients. In my mind there is nothing better than a kitchen item that will be kept and used for years to come (think of the advertising exposure). More and more people are gravitating to sustainable products, so you might want this bamboo set. Heck, you might want two, to use in your own kitchen!
#COA-Slate-XX 4-Pack Slate Coasters (pg. 12) – This is another item I'm recommending to my wife as a gift to present to new home buyers. Whether you're entertaining, sitting around the table for dinner or working in your home office, most people have a drink. If they're like me, they grab a napkin or paper towel to set it on. Step it up notch and protect your furniture with these awesome slate coasters.
Kristin:
#JK-3830SL Silver Glitter Desktop Photo Frame (pg. 7) – This frame caught my eye because it has fun silver glitter. This desktop frame is acrylic plastic, so I would be comfortable having it on my desk at work or sitting on a shelf at home. My cat can bat at the glitter, my son can shake it – and my photo is safe. Giving the photo a shake at work could also be a nice stress reliever. You can also add a custom insert image. Great keepsake for their work desks or shelves at home. What a great way to make your clients feel special!
#8999 – Adult Coloring Book with Colored Pencils (pg. 7) – As we move from summer into fall, I think of rainy days sitting under a blanket, quietly coloring as I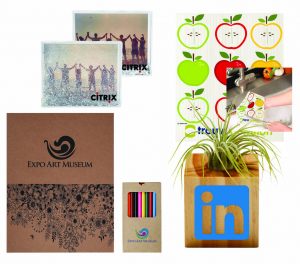 watch my favorite show on Netflix. This is a nice size book to carry with me or leave on an end table by the television. There is also something fun about opening a fresh coloring book. Both the pencils and the book come imprinted. It includes a sharpener and an eraser. Coloring is a great stress reducer. This would be a great gift to give your employees and show them that you care about them. One color imprint is available on the coloring book, and one color or full color is available on the pencil box.
#JK-9055 Swed-ish Dishcloth (pg. 12) – This new product intrigues me. Reusable, biodegradable and sustainable are all words I like to incorporate into my lifestyle without breaking the bank. This product is reputed to replace up to 15 rolls of paper towels. The price includes full color imprint. Just add your brand to a stock design. You can utilize the entire space with a custom full color imprint. Household and kitchen items offer daily brand exposure and repeated use.
#JK-1505 Air Plant (pg. 12) – Low-maintenance plant? Do I need to say any more than that? I love my garden, but my plants go into open revolt if I bring them inside. Melanie, Brenda and Joyce can grow a jungle on their side of the office, but not me. These words speak to my green thumb: "They require very little up-keep and are a nice green addition to brighten any setting regardless of the season." This plant has my name written all over it and I would suspect there are others out there too that need a low-maintenance plant too. Perfect for any home office, school or desk with your brand on it.
Erica:
#100714-XX Modern Sprout Tree Kit (pg.4) – This is my top pick from the Fall Gift Guide. I got one of my own and planted it. I have great news! I have two sprouts. Your brand on the bag for these Modern Sprout kits will signify you care about the earth. Modern Sprout is on a mission to help reforest the future—for every kit purchased, a donation is made to plant a tree. Tree Kits feature carefully selected seed types that will thrive in most parts of the country. The whole kit is environmentally friendly. Planting a tree, especially here in Iowa, is top priority after the Derecho from last August.
#OR2C Custom Pewter Ornaments (pg. 4) – I've always really liked the ornaments because of the continuity possibility. With all the manufacturing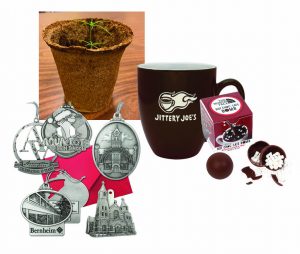 and printing capabilities available, the possibilities are limitless. You could do your building, logo, a new product or a holiday themed ornament. There is space on the back of most of the ornaments for a personal message. When you need to impress your clients with something substantial this ornament is the way to go. Create your own collector or annual series.
#HCB1 Hot Chocolate Bomb (pg. 5),  #17300E Duo-Tone Bistro Mug (pg. 22) – These two items from the Guide pair so nicely! Who doesn't like hot chocolate? Especially as the weather turns cold for the coming winter. This Hot Chocolate bomb is not only delicious but an amazing food experience. Filled with delicious marshmallows, simply place the chocolate bomb in a mug, pour 10 oz. of hot milk over it and watch the bomb unravel before your clients' eyes. Fast and easy, this hot cocoa recipe is sure to make you customer's cold winter's day much better. The Duo-Tone Bistro Mug's copy is deep etched, giving it a more upscale look. This handy piece of drinkware is a perfect addition to any coffeehouse, restaurant, or home kitchen. It has a vibrant exterior with white interior with easy grip handle. Excellent for the holidays!
Our team loves recommending products for your company and is always happy to help! Click here to find the perfect holiday gift from our Fall Gift Guide!