People around the world love promotional products and have been connecting with them for a very long time. In fact, the first known promo products were commemorative buttons from 1789 when George Washington was president. In 1886, Jasper Meek, deemed "The Father of Promotional Products," started using burlap bags to promote small businesses.
With such widespread and enduring appeal, it's no wonder that promotional products are so effective when it comes to creating exposure, engagement, and a lasting impact. No matter the size of your business, there's nothing more powerful and effective than putting your brand in the hands of consumers or employees. Promotional campaigns are a personal, cost-effective way to help you not only reach your target audience but do so in a meaningful way that keeps consumers coming back for more.
October 20th is Promotional Products Work! Day, and we can't think of a better time to celebrate the many ways promo products can help you to connect with your audience.
Let Us Count the Ways
So, how exactly do promotional products help brands get noticed and connect with customers?
You're invited: Promotional products are the only advertising welcome in spaces and places that no other advertising medium can touch.
Fun Fact: Promotional products are ranked the most effective form of advertising across all generations.
Surprise & delight: Customized, personalized, tech-savvy, and highly targeted promotional products are the No. 1 most effective form of advertising to inspire action.
Staying power: With more recall than all other advertising media, 90% of promo product recipients recall the brand and 80% keep items for over a year.
Fun Fact: Consumers are 2.5 times more likely to have a positive opinion of promotional products over internet advertising.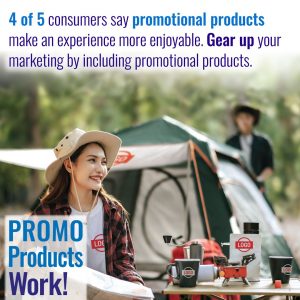 Inspire purpose: Impact a highly targeted audience through a social, intellectual, educational, and entertaining form of experience and engagement.
Fun Fact: Nearly 100% of consumers say they are willing to go out of their way to get a promotional product.
Get in touch: Promotional products are the only advertising medium that touches all five senses, and the only medium people can touch!
Fun Fact: A single promotional item averages 344 impressions per month.
Let us help you make promotional products an integral part of your marketing today!