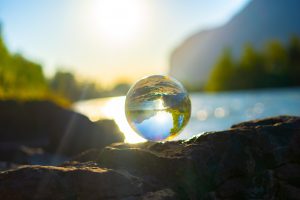 Today is America Recycles Day, and we want to share this article with you. It does a great job of explaining what PET products are, why brands need to incorporate them and how important it is to buy from these companies that are producing the products. People are becoming more environmentally conscious every day, and the promotional products industry needs to continue adapting to this change.
Embrace Your Inner Green – Recycled PET Products
The concept of recycling has been around for thousands of years, but our modern-day understanding of the term emerged in the 1960s and 1970s, spurred on by the environmental movement. The pandemic has heightened awareness of sustainability issues. In a recent survey, 87% of people said that companies should integrate environmental concerns into their products, services, and operations. One step we can all take to embrace our inner green is to buy products made of recycled materials. That's where recycled PET (RPET) comes in.
PET – or polyethylene terephthalate – is the most common type of resin. It is used to make plastic containers that hold anything from water to shampoo to peanut butter to cleaning solution. Because very  few PET containers can re-enter the production cycle as food-grade containers, manufacturers have developed a process for recycling PET into a polyester fabric – or RPET.
Why Choose RPET Products?
Recycled PET polyester is equivalent in quality to newly produced polyester.
Recycling PET helps decrease the amount of plastic waste entering landfills.
Using RPET polyester reduces the need for new material and saves natural resources such as oil and natural gas. 
Creating RPET uses 59% less energy than creating virgin PET products.
As you can see, there are many reasons to use recycled PET products and little to no drawbacks. The quality is the same and it serves a greater purpose to help the planet and future generations. This is a small change that can make a huge difference for many years to come. We challenge you to purchase ecofriendly products. Keep your audience in mind: Millennials and Gen Z are very eco conscious groups of people and are more likely to want these products. We currently offer many RPET products. A few are shown below. And you can find even more on our website here.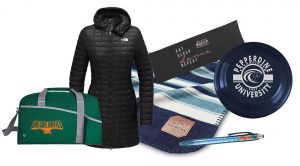 Koozie – #AP6810ECO Recycled PET Center Court Duffel

Recycled equivalent content: 19 (16 oz) water bottles

Hit – #11166 RPET Oasis Pen

Made from post-consumer plastic bottles

Gemline – #100986-117 Slowtide Fleece Blanket

Made from 100% recycled post-consumer waste

PCNA/Leads – #1631-66 Recycled PET Eco Cooling Fitness Towel
Garyline – #FLY9R 9" Flyer Frisbee

Molded with 40% post-industrial recycled polypropylene

SanMar – #NF0A5IRN The North Face Ladies' ThermoBall Eco Long Jacket

Made from 100% post-consumer recycled content
Be sure to contact your sales representative for other resources or if you have questions about how to find more RPET and recycled products.