No matter your holiday plans, most people do some traveling to get to their special place. I have compiled a list of traveling must haves from our Bankers 2021 Fall Gift Guide. Use this list to help you find the perfect gift for any group of people.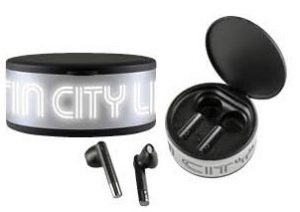 UQ20755 Illuminating TWS Earbuds (pg. 13) – Earbuds are a traveling necessity. Travelers are bound to need earbuds when in the airport or on long car rides, and especially when traveling alone. The illuminating case charges your earbuds when they aren't in use. When charging, the case lights up your brand's logo. With three hours of playback time on full volume, these earbuds are a great accessory for any amount of traveling being done this year. Your brand name won't be missed when it's up in lights like this.

8832XX h2go Cerro Bottles (pg. 22) – If you're a water bottle connoisseur like me, you always have one with you and have certain ones for each occasion: the gym, work, home,
etc. When traveling there are a few things I look for in a water bottle. It must be well sealed, keep my drink cold or hot for an extended amount of time and fit in most cup holders. Nothing is more annoying than when your bottle doesn't fit and then you get stuck holding it the whole trip. This water bottle is all of that in one. The sleek design makes it practical for the gym, but attractive and professional for professional situations. It is vacuum sealed, double wall stainless steel, slim, has a carry handle and is available in six colors. It is also said to be tough-as-nails, which is important when hurrying through busy areas.
AG-250 Rolling Carry-on Duffle (pg. 20) – Duffels are my go-to bag when traveling, but I always end up packing too much and making it heavy. This bag is the solution to that.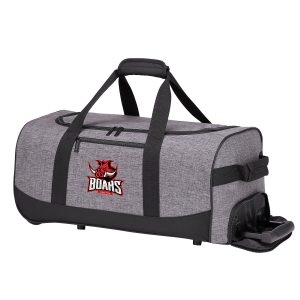 It's telescope extending handle allows ease when walking long distances or while carrying other luggage. I like how duffels hold my clothing and personal items I don't want to check, so it's amazing that is it is already a TSA approved carry-on. The hard bottom ensures that your items are protected, and your silk screen logo will stand out amongst the crowd. Putting your imprint in a high traffic area is expensive. Instead of putting up a sign in one airport, provide the travelers in your life with this carry-on duffle and your impressions double as they depart one airport and arrive in another.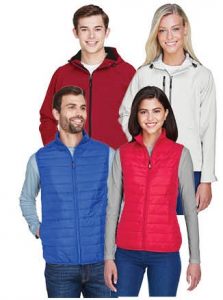 88166/78166 North End Two Layer Fleece Soft Shell Hooded Jacket and CE702/CE702W Core365 Prevail Packable Puffer Vest (pg.14) – Weather while traveling can be unpredictable. It's always good to have multiple layers available. This jacket is light weight, but also has a fleece chin guard and attached hood for colder temperatures. As fall turns into winter, rainstorms happen more frequently. These jackets and vests are water repellent. The vest's lining is made of 100% thermal poly fill. What's even better is the separate storage pouch that allows it to be packable and take up less space in your luggage. People are drawn to attractive clothing, but when it is visually pleasing and versatile your brand will gain more exposure.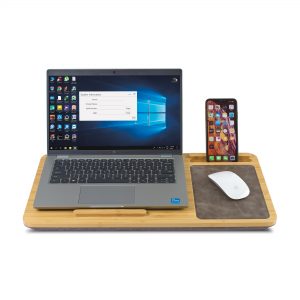 100938-231 Auden Bamboo Lap Desk (pg. 10) – Some employees have been working from home for a while now, but it's not the same when you don't have your personal desk and supplies. This lap desk has an awesome design that allows the user to work anywhere they need to. It is my favorite gift idea for employees this year. If your employees work from home at all, this is a great gift that will show them how much they are appreciated. There is so much about this product that I love. Your laptop won't overheat because there is a vented tray so your laptop won't overheat, and it can't slip off the lap desk because the ledge secures it safely in place. The mouse pad and phone dock are already built in. You might even want to order an extra for yourself. I would!
Contact your Bankers Sales Consultant for information on these products and other gift ideas or check out our Holiday Gift Guide here.