By: PPAI Media
Consumers have an unquenchable thirst for drinkware. Between mugs, bottles and tumblers, they can't get enough. And with ever-growing environmental and health concerns, reusable drinkware is a solution that makes a statement.
From marathon runners to corporate suits, consumers are constantly looking for the perfect cup. According to industry research, as many as 78 percent of U.S. consumers own branded drinkware, and half of those people use their logoed mugs and cups between two and three times per week. When people find a favorite bottle or mug, they use it faithfully, which is why branded drinkware leads in impressions—more than 1,400 for the average item in its lifecycle. Along with this heavy usage, people tend to keep branded drinkware longer than other categories of promo items. PPAI research shows that recipients keep their promotional kitchenware, including mugs and other drinkware, for roughly four years on average. So, it's not a question of whether end users are using branded drinkware, but if they're using drinkware that's customized with your branding.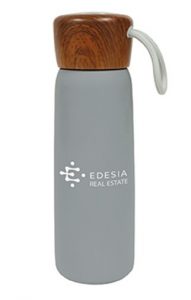 Drinkware is more than an everyday essential; it's a testament to one's lifestyle. Consumers have found an identity in the types of beverages they drink and drinkware they use. The Atlantic says coffee lovers have created a prospering coffee-connoisseur culture.
Today, drinkware is a part of self-expression. The Atlantic says that fancy water bottles have become a status symbol. Carrying a water bottle not only implies that you make hydration a priority, but also that you care about the environment. Essential to a well-functioning body, drinking water is obviously not new, but the trend of constant consumption has continued to rise in popularity over the past decade.
Hydration is a top wellness priority for many consumers. Now marketed as a cure for many of life's woes, water on-the-go is a must. Since 2017, bottled water has been the most popular beverage in the United States by volume, surpassing soft drinks with sales up seven percent over the previous year, according to the Beverage Marketing Corporation, a beverage consulting firm. So, people are drinking water all day and even carrying it around with them, bringing water on the go. Giant, even cumbersome water jugs are a new fashion accessory, according to MEL magazine.
The New York Times says that everyone's 2020 resolution was to drink more water. As a result, this need for easy-to-use and convenient drinkware for everyday hydration and a growing focus on fitness is driving market growth. The drinkware market is following suite with sales expected to exceed $35 billion by 2025, according to MarketWatch. Global shifts toward the use of more sustainable materials are also leading to market gains. When it comes to mugs and cups, metal and silicon are leading the industry. Metal drinkware, in particular, is more durable than other materials, making it much more economically and environmentally viable, according to MarketWatch. Consumers also gravitate to design-forward drinkware that represents their lifestyles.
Drinkware gifts say, "I care about you. Please stay hydrated." Whether it's a water, tea or tequila, everyone could use a drink.
Make sure to add drinkware to your next marketing plan. Contact your Bankers Representative to decide which best selling product is the perfect match for your company.
Check out more drinkware options here.