We're sharing even more Spring Guide favorites! Kristin Nalan and Kevin Peska each tell us about their top three products of the season.
Kristin: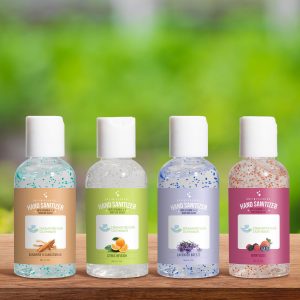 #2OZSANMO Moisturizing Hand Sanitizer (pg. 10)
The combination of 62% alcohol aromatic hand sanitizer and moisturizing beads is brilliant. The moisture beads contain vitamins A and E to help keep your skin radiant and the moisture beads are plastic-free. You can keep the germs at bay and have wonderful skin.
Beads/Scents:
Red/Berry Bliss highlights ripe notes of fresh berries, grapefruit and mango
White/Citrus Infusion offers a refreshing grapefruit and mandarin breath of fresh air
Blue/Lavender Breeze features the soothing scent of sweet basil, lavender and lemon aroma
Green/Sunshine & Sandalwood deliver the clean scent of gardenia, jasmine and sandalwood
With a full color label, you can be as bold and creative as you want. This item is perfect for tradeshow handouts, health fairs, Mother's day gifts and employee appreciation. AND it doesn't break the bank!

#FPM Fine Point Marker (pg. 15)
Make your mark permanently by putting your name on the world's #1-selling marker – the Sharpie Fine Point. It has permanent, fast-drying acid-free ink that is ACMI certified non-toxic standard Sharpie ink. Everyone instantly recognizes and loves these markers and uses them for many different purposes – at work, at home, at celebratory events, etc. These come in 19 vibrant colors and the ink color matches the trim color. These are assembled in the USA. This isn't "just" a pen, it's a SHARPIE!
#BGE3000 Linen & Cork Tote (pg. 17)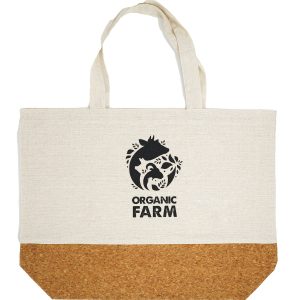 It's eco, it's practical and it's ultra-chic! This is an extra-wide, soft linen tote with reinforced bottom, and is strong enough to carry just about anything you would think to put in it. It's made of 6 oz linen, 100% cork on the bottom, a 4″ gusset and 18" handles. This soft, but durable tote is great for carrying books, groceries, clothing, and running errands. The big 18″ opening makes it easy to pack and unpack. One color imprint is standard, but a full color heat transfer is available as well. The price point fits many budgets and stock is currently plentiful. I use a variety of totes regularly and it is always nice to freshen up my stash!
Kevin:
#26147 The Rebel Umbrella (pg. 4)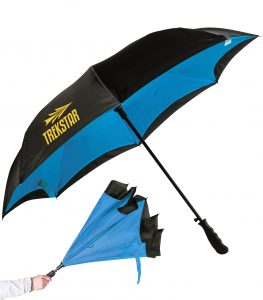 The inverted closing action pushes the water away from you when closing the umbrella.  This makes it super easy to enter or exit your car or when going through a door, all the while keeping you dry in the process. Plus, the inverted closing action keeps the dry side of the umbrella on the outside when brought indoors.
Features a large 48˝ arc, automatic closing mechanics and a straight rubberized grip handle. Many great color schemes to choose from, making it easy to promote to most any business.   Colors: Navy-White, Red-White, Black-Orange, Black, Royal-White, Black-Royal, Black-Yellow, Black-Lime, Black-Red, Black-Cyan.  Large imprint area (7"x 5") for brand exposure.
You won't use this every day, but I guarantee you'll be thanking the advertiser when you do need it!
#55172 Heathered Cleaning Cloth (pg. 8)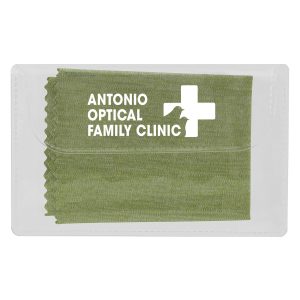 This 100% polyester cleaning cloth comes in its own handy clear pouch/case.  It's ideal for wiping the smudges, dust, and fingerprints from glasses, touchscreens, electronics, and other surfaces without leaving a scratch.
Available in an assortment of colors:  Blue, Gray, Green, Orange, Red
Consider this item for tradeshow hand-outs, direct mail, invoice stuffer, etc.  Recipients will not discard this, instead it will stay in a desk drawer, purse or cabinet for continual use.  Advertisers are guaranteed multiple exposers when they utilize this piece and are sure to clean up their competition!
#71317 Confetti Mood Stadium Cup (pg. 16)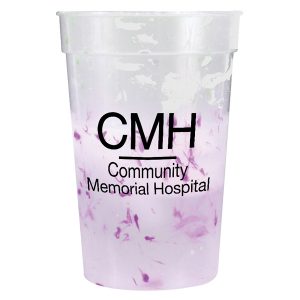 This is the definition of a "fun" giveaway? This 17-ounce cup changes color when ice cold liquids are poured into it.  Colors: Green to Blue, Blue to Purple, Pink to Purple, Yellow to Green, Frosted to Purple, Frosted to Red, Frosted to Green, Frosted to Orange, Frosted to Blue
Ideal for outdoor events like company picnics, parties, tailgates, festivals, and more.  Works great indoors as well for anniversaries, weddings, birthday parties, etc.
Best part is your guests will take these "collector items" home and use them as everyday drinkware!
We hope you've enjoyed hearing about our favorite Spring Guide promo products! Be sure to check out our Guide and contact your sales representative with any questions you may have!