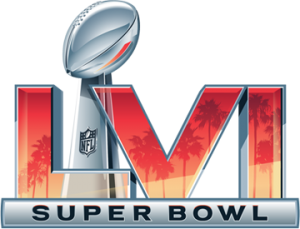 By: Molly Beavers
The Super Bowl is, well, the Super Bowl of advertising. The Super Bowl is a rare occasion on television when people want to see advertising. Instead of setting the DVR to ignore commercials, people are using it to record them. The captive audience and high price tag forces advertisers to push the envelope of creativity and campaign development. Last year a 30 second ad sold for as much as $5.6 million dollars. Some 96.4 million people on average tuned into the 2021 Super Bowl to watch the Chiefs and Buccaneers. That estimate doesn't even account for larger viewing groups at private parties, or bars.
Most companies don't have a massive budget to spend on a Super Bowl ad. That's where we come in! Promotional products offer the same effect. They are a rare advertising medium the people actually want to see and receive. It's not just one Sunday night each year, it's all of the time.
While the ads are fun to watch they are also great for gleaning valuable insight into advertising today. It's about more than what is on the screen. Valuable marketing lessons are found in the buzz generated by the ads and their integration of other channels. Here are a few observations that can be applied when using promotional products.
Ads Are No Longer Linear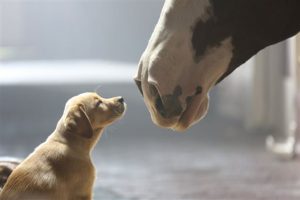 Commercials are evolving to be more than just interruptions of our regularly scheduled programs.  Advertisers are no longer in control of how, when or where their advertising is viewed. Sure, they can still buy specific time slots, but with social media sharing turning them into entertainment on demand, it's not always a straight shot from advertiser to the viewer.
To take advantage, Super Bowl advertisers are creating added entertainment value. For several years, in the buildup for the Super Bowl, commercials have been teased, released, or even "leaked" prior the Super Bowl to start the conversations early.  Just google – Super Bowl Ads for 2022 if you want a peak.
This year surrounding the big game, the commercials now have their own commercials for their commercials. No joke—the Super Bowl ad process has gone from dropping teaser trailers for commercials to straight up filming a commercial to promote an upcoming commercial. There are a lot that have sequel commercials – before, during and after the game. Others have "cliff hanger" commercials asking you to go online to see the rest. Some are integrating social media or mobile content to further engage. The goal is to give the audience additional engagement options once they have their attention.
Takeaway – Ensure a good marketing mix that gives you audience multiple options to engage your brand. Promotional products should be a part of that mix, because a relevant and useful item tends to integrate itself into the life of the recipient. The additional engagement is appreciated by the recipient and brings value to the advertiser. Few advertising methods are as welcomed into personal spaces like promotional products.
In It For The Long Haul
Super Bowl ads now have the ability to last longer than their time slot. People talk about the ads for days and watch them over and over again. In the days after the big game, websites and blogs are posting articles reviewing the ads thus adding extra life. Since $5.6 million is a lot to spend for 30 seconds, Super Bowl advertisers are finding value in the conversations that take place on social media and in the blogosphere after the ads have aired.
Take away -look for long term marketing value beyond the initial touch. Promotional products have that long term value built-in as the typical item is kept for 6 months. They have the ability to start conversations about a brand and encourage people to share their experiences long after they have received the promotional item.
Promotional Products Savor the Moment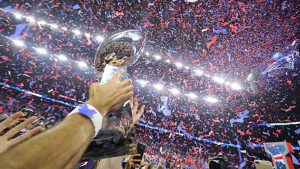 Every year you will see the t-shirts and caps celebrating their championship. Usually there is a commercial selling the winning team official merchandise to commemorate the occasion. Talk about striking while the iron is hot. The inclusivity adds value by creating a stronger connection between the fans and their team.
Take away – People want to remember good times and significant milestones. Promotional products are tangible reminders of those occasions and can connect on an emotional level with the recipient. The effect is not limited to the big events. Leaving an item behind after a sales call or handing one out after a conversation at a trade show booth serves as a reminder of what was discussed.
People are always open to receiving promotional products. You don't have to wait until Super Sunday for consumers to welcome our advertising…83% of consumers like receiving promotional products.  Promotional products create the same opportunity and excitement.
Who will you be rooting for the Bengals, the Rams or the Commercials? I admit…I am not much of a football fan and only watch for the commercials. My family and I always pick our favorites. After the big game, we would love to hear from you regarding your favorite commercial.
Want to get in on the action? Contact your sales representative for more information about adding promotional products to your next campaign.