We asked our sales managers to share their favorite promos from Bankers' new Spring Guide! In this installment, Brenda Thurness and Mel Lamb tell us about their top three picks.
Brenda:
#R100/R200 Granny Paring Knife (pg. 6)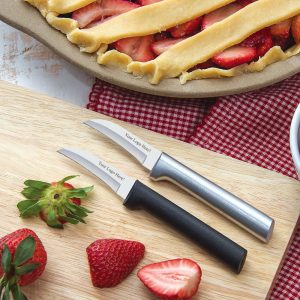 The Granny Paring knife is a little knife with a specially designed reverse curved shape that cuts and slices in any direction.  The website states its compact, precise and Oh-So Sharp! I'm very anxious to try this knife because it says its terrific when used on small foods that are held in the hand while peeling or cutting, like strawberries for fruit pizza or apples for pies.  It works equally well whether cutting toward or away from the body.  Its available with a silver satin aluminum handle or black resin handle and has a lifetime guarantee!
#CGB5 5 oz. Candles with Giftbox (pg. 10)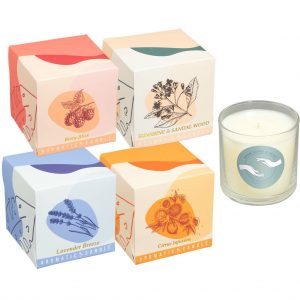 I love candles so I'm very anxious to try new #CGB5. The website says it offers an 18 hour slow burn that emits fragrance at a higher level for a lasting impression. The packaging for these candles is very cute.  They come in a glass container in some interesting scents as berry bliss and citrus infusion (would be nice for the kitchen), lavender breeze, along with sunshine and sandalwood.
#EAC-SU21 Sunrise Alarm Clock (pg. 12)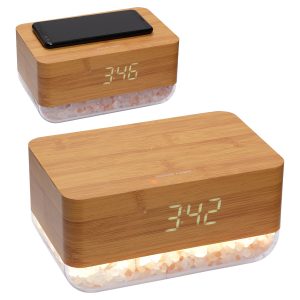 The third item that caught my attention is the Bamboo Sunrise Alarm Clock from Ariel.  This is a multi-function item.  It has a wireless charging pad on the top and a clock that shuffles through the date, time and temperature on the side of the box.  It has an alarm set up on the back, with a snooze button option on the top.  It also has a 6 color changing light mode so you can light up the Himalayan salt in the bottom of the box to the color of your choice for a night light.  You can do a one color imprint on the top or you have the option to do their Vivid (full color) option.  Comes nicely packaged making a great gift!
Mel:
#Quatro Fashion – Papermate InkJoy (pg. 14)
I LOVE colored pens. They are a great way to keep myself organized while working on several different projects. This InkJoy pen is one of the smoothest pens to write with.

#BEN-FN21 BeWell Flaxseed Heat Therapy Neck/Shoulder Pad (pg. 10)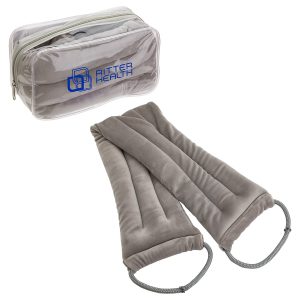 I think this would be a fantastic item for employers to give to their employees that work on a computer all day. Either at home or in an office. I don't know about you, but my shoulder starts to hurt if I have a busy day in front of the computer. At my previous job we had something very

similar, and they were a big hit around the office.
101060 Aviana Dallas To Go Cup (pg. 16)
I am a sucker for new drinkware pieces, especially when they come in such a pretty color. I think this stainless steel double walled tumbler would be a big hit when the warm weather arrives. Bonus with this piece – you can put it in the dishwasher!
We're excited to share our Spring Guide with you! We have carefully curated 23 pages full of promotional products we think you'll love. Need more inspiration? Contact your Bankers sales representative. Our team loves recommending products for your company and is always happy to help! Click here to find the perfect products for your campaign!
Check back soon to see more Spring Guide Favorites!