No matter your holiday plans, most people do some traveling to get to their special place. I have compiled a list of traveling must haves from our Bankers 2022 Fall Gift Guide. Use this list to help you find the perfect gift for any group of people.
95195 TWS Earbuds with Charging Case (pg. 22) – Earbuds are a traveling necessity. Travelers are bound to need earbuds when in the airport or on long car rides, and especially when traveling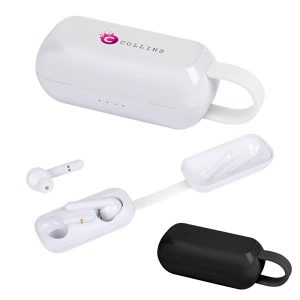 alone. The case charges your earbuds when they aren't in use.  The earbuds pair from 30 feet away and are perfect for hands free calling and listening to your favorite music. Easily distribute to employees or clients in the included gift box.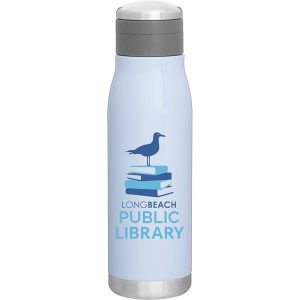 H2go Lumos (pg. 15) – If you're a water bottle connoisseur like me, you always have one with you and have certain ones for each occasion: the gym, work, home, etc. When traveling there are a few things I look for in a water bottle. It must be well sealed, keep my drink cold or hot for an extended amount of time and be aesthetically pleasing. This water bottle is all of that in one. The sleek design makes it practical for the gym, but attractive and professional for corporate situations. It is vacuum sealed, double wall stainless steel, slim, has a carry handle and is available in seven colors.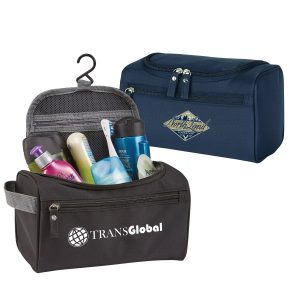 TT-327 Overnight Amenities Kit (pg. 16) – When traveling, I always like to have a separate bag for personal hygiene necessities so I don't have to go searching through my luggage for them when you are trying to get ready in an unfamiliar place. This overnight kit is the perfect size and has a hanging hook that allows the bag to be held open and the contents easily accessed.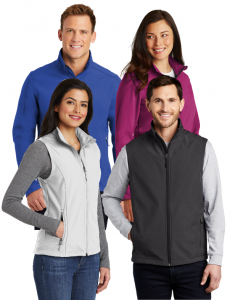 J317/L317 Port Authority® Soft Shell Jackets  & J325/L325 Vests (pg. 12) – Weather while traveling can be unpredictable. It's always good to have multiple layers available. This jacket is light weight, but also has a fleece chin guard and interior storm flap. As fall turns into winter, rainstorms happen more frequently. These jackets and vests shed rain and wind. The vest's lining is made of 100% polyester microfiber lining. People are drawn to attractive clothing, but when it is visually pleasing and versatile your brand will gain more exposure. These also make great team and corporate uniforms.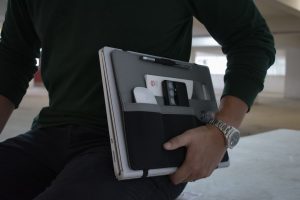 TBC044 Laptop Clipboard (pg. 19) – This techy gadget is perfect for any client or employee. It can be used while traveling and working remote or just for ease when commuting from the office to meetings. Organize everything they need and have it all in one convenient place. It also doubles as a laptop stand to create an ergonomic workspace anywhere.
Contact your Bankers Sales Consultant for information on these products and other gift ideas or check out our Holiday Gift Guide here.