Bankers 2023 Spring Guide has been released! You can always view our Guide online under the special offers tab on the Bankers website, or contact your sales representative for a physical copy.  We are excited to share our favorite products of the season.
Brenda
#101462-XXX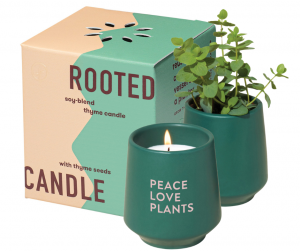 | Modern Sprout Rooted Candle (page 2)
I love the idea of this 2-in-one candle. This 6 oz. soy-blend scented candle not only gives you 42 hours of burn time (soy burns longer) but comes with a packet of seeds in a beautifully designed box for easy gifting. You have the choice of Sienna/Rosemary, Mustard/Lavender or Dark Teal/Thyme.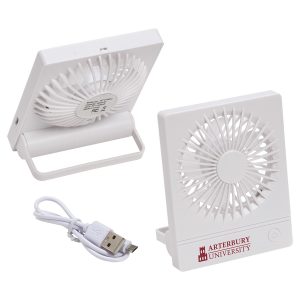 #WTV-PB22 | Power Breeze Rechargeable Mini Fan | Ariel (page 11)
This Mini Fan is lightweight, compact and has three fan speeds. It has a flip out stand for desk or table use and runs 2.5 hours on a single charge (depending on the speed you are using). It comes with a Micro USB power cable so you can keep it running daily or through the night. This would not only be a good addition for your desk but a nice travel piece as well.
Turnover Spatula
#R128 Silver Aluminum Handle, #W228 Black Resin Handle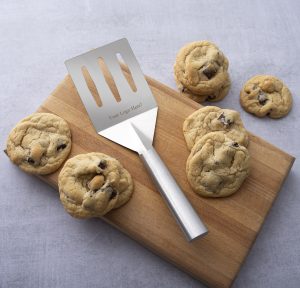 (page 15)
The Turnover has a 3 ¾" x 3 ¼" face, making it easier to flip burgers, chicken and fish. Also has slots to help drain the grease. It's angled face and stability makes it easier when scooping up gooey brownies, warm cookies or sticky caramel rolls from pans. This product is made in the USA and covered by a Lifetime Guarantee.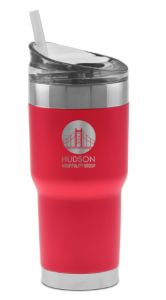 #B819LE | 27 oz. Impulse Series Tumbler (page 19)
I've been using this tumbler for a few years now. It is stainless steel double walled and copper vacuum insulated to keep my drink cold all day. It has the narrow bottom which fits in my car's cup holder. The straw is included for cold drinks and it has a nice thumb slide lid for drinking hot beverages. Comes packaged in a retail gift box. It's available in pink, gray, black, seafoam and silver, all with a powder coat finish. This durable piece is also laser etched for a high end look.
#BGNW1811 | Bohemian Non-Woven Collapsible Tote (page 7)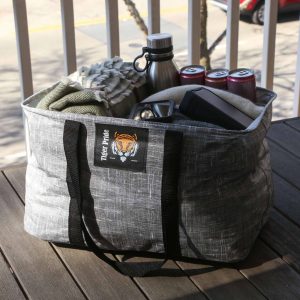 I have several bags like this one. I like them for keeping blankets and umbrellas organized in the back of my car or hauling blankets, jackets, snacks and water bottles. I used them to haul presents to the different Christmases we had. The main compartment features a sturdy wire rim, giving the tote shape and the two 26" long web handles make it easy for carrying and free up your hands.
Kevin
#BG6600 | Fleece/Nylon Picnic Blanket | The Magnet Group (page 4)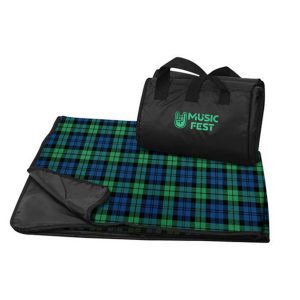 I really like the versatility of this product. People most often think of picnics, but the soft polar fleece is comfortable and warm. The water-resistant poly shell on the other side helps keep you dry. This blanket is great for sporting events, drive-in movies or just to keep in your trunk. It's easy to fold up for convenient packing and storage and has a handle that makes carrying super easy! My son-in-law coaches the local high school girls tennis team and offered these with the school logo for all team members and fans. It was a great fundraiser for his program!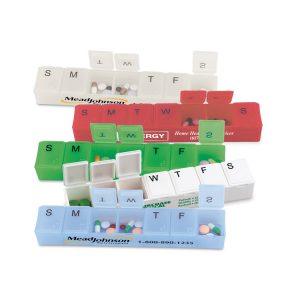 #H787 | Super-7 All-Week Pill Box | Bay State (page 6)
This product features seven, snap-tight lids, each screened with the day of the week (plus it's inscribed with Braille letters). This one of my favorite items because it can be used for any business! Nine out of 10 consumers own promotional products and use them regularly. Your audience can use this helpful promo daily. It's also great for pet medicine!
#CBP | Custom Back Playing Cards | Playing Cards on Demand (page 8)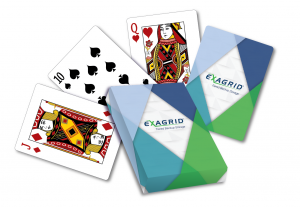 With branded playing cards, what you're holding in your hands are "mini" billboards, featuring full color process designs that allow for extreme creativity. Playing cards are great for tradeshow giveaways, branding projects, events, marketing collateral and more. Recipients will keep these and use them with family and friends. They are printed in the USA on high-quality, premium casino grade linen stock.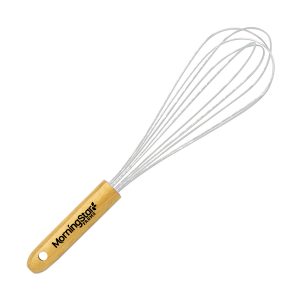 #S71446X | Bamboo Handle Whisk | WOW Line (page 15)
What's better than a product that is useful, long lasting and appreciated?! Kitchen items remain one of the most popular because they meet all the criteria above. Adding sustainability only increases this item's appeal. Reducing one's carbon footprint is a movement that has been gaining (much needed) attention. The Bamboo is a sustainable material that is now trending!
Click here to view our Spring Guide and check back next week to see more favorite promos of the season!