It's almost time for March Madness… the time of year when even the ambivalent become invested in the outcome of college basketball games, and even those who actively dislike college basketball find other things to make guesses on in brackets, because the process is just that fun. If you've never filled out a bracket, it's a 50/50 choice at every branching, narrowing a field of 64 down to one winner. Your odds aren't great, but making the picks is entertaining, whether you're basing your choice on the skills of the players or which team's mascot looks fiercer!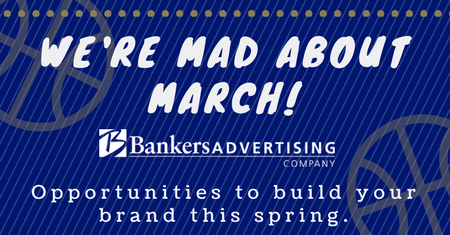 According to a Smithsonian article, "you're more likely to die an excruciating death by vending machine, become president, win the Mega Millions jackpot or die from incorrectly using products made for right-handed people (if you're a lefty) than fill out a perfect NCAA basketball bracket." In fact, according to Sports Illustrated, there's no documentation that anyone has ever done so. Yet every year, ESPN reports, some 70 million brackets are filled out. With that much fun going on, it would be madness not to brand it! Great choices include pens or markers to fill out the brackets (nothing erasable!) or basketball stress balls for when the tensions get high. Check out these other great March ideas:
Employee Appreciation Day
A day to honor those who really keep the company going! Remind your employees that they matter to you with creative gift ideas they'll be sure to appreciate.
Ideas: Gifts – candles, drinkware, coolers
Oscar Night
Get in on the award show fun. Movie lovers are sure to have conflicting opinions on the nominees, so give them something to agree on with these great branded giveaways.
Ideas: mood sunglasses, star-shaped chocolates, popcorn bags
National Plant a Flower Day
Indoors or outdoors, in a pot or in the ground – get your fingers dirty! Spring is right around the corner, so dig in!
Ideas: gardening gloves, gardening tools, blossom kits and seeds
Pi Day
For bakers and math geeks alike! 3.1415 … no matter how many digits you can recite of this irrational number, it's a totally rational excuse for serving up the tastier version.
Ideas: slice-n-serve pie cutter, apple pie stress reliever, calculator
St. Patrick's Day
This traditional Irish-American holiday gives rise to parades across the country.
Ideas: shamrock beads, good luck coolie, whiskey set
International Day of Happiness
Established via a U.N. resolution in 2012, this holiday, celebrated by all U.N. member nations, is in recognition of the value of happiness to our health and wellbeing.
Ideas: emoji hand fan, superhero smiley stress reliever
The ideas are endless. Feeling overwhelmed? Contact your Bankers Promotional Consultant to help you select the perfect item for your brand building efforts this Spring! Check out our Guide for even more ideas!