May is national BBQ month. For my family, summer is all about grilling. I love getting together to eat good food and play yard games. Here are some promo ideas that I can see fitting right in at our family BBQs.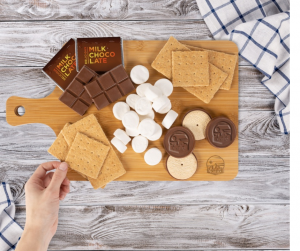 CB101-E | S'mores Dessert Charcuterie Board 
S'mores are one of my favorite things about summer! This gift allows you to have your logo on the charcuterie board and cookies. The set comes complete with 2.5 oz. of half jet marshmallows, 3.15 oz. of graham crackers, 4- 1 oz. chocolate bars and 4 customizable round cookies. Serves around 6-8 people. Eco-friendly, charcuterie board is durable and made of pure bamboo. Biodegradable and dishwasher safe.
101391-001 | Cuisinart® Petite Tabletop Fire Bowl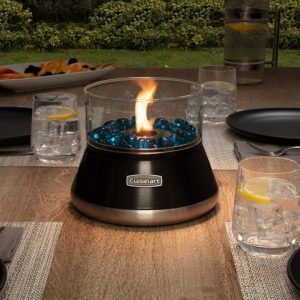 This promo is perfect for small patios and outdoor areas. My parents have a similar one in their pavilion and we use it to stay warm on early or late summer nights, keep bugs away and make s'mores when we need a quick fix, but don't have time for a big fire.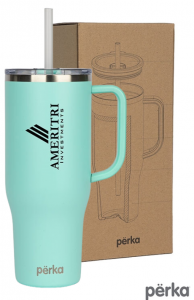 KM8416 | Perka® Kempton 40 oz. Stainless Steel Travel Mug 
40 oz. tumblers are so popular right now! This mug is light weight and convenient to carry with its ergonomic handle. It has double wall vacuum insulated construction and copper lining to provide extra temperature retention. Comes with a transparent lid with spill-resistant slide closure for hot drinks and a Tritan™ drinking straw for cold drinks. Fits in most cup holders and gives back to Shelter to Soldier.
OD610 | Foam Axe Throwing Game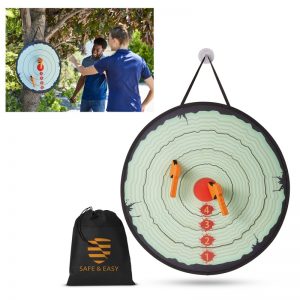 This game perfect for indoor and outdoor play, includes two foam axes and an easy to fold target with a suction cup. For Easter one year, my cousin brought real axes and a target. It was fun, but this is safer and allows for a worry-free good time.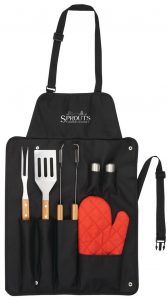 1450-89 | BBQ Now Apron and 7 piece BBQ Set 
Any grill master needs these tools to be successful. Here they are all packaged together for a great gift. The BBQ set includes an apron, spatula, fork, tongs and oven mitt with salt and pepper shakers. Adjustable back and neck strap allow the apron to be adjusted for a comfortable day in front of the grill.
2001E | Deep Etched Pitcher and Pint Set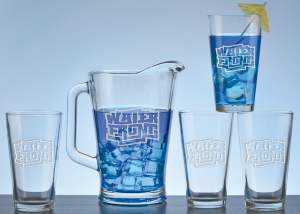 Warm weather means you need to stay refreshed. Whether it's beer, lemonade or water, your imprint will stand out. This set is laser etched on all five pieces and would make a thoughtful gift for employees, investors, board members and loyal customers.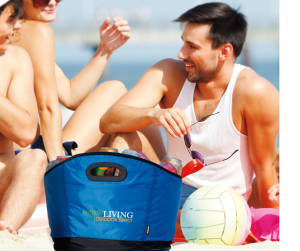 45404 | Koozie® Party Kooler 
The Koozie® Party Kooler holds up to 24 12 oz. cans plus ice and has a built-in bottle or can opener so you're never without. Its easy-clean, leak-proof vinyl liner makes it the perfect accessory for a day of fun.
WTV-SC22 | Stay Cool Spray Bottle & Fan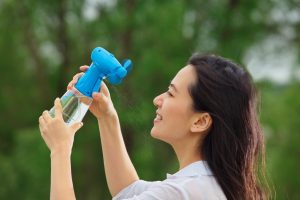 I'm a fair weather fan. If I'm going to stay outside on really hot days, this fan is a necessity. It'll keep them cool at hot outdoor events with the spray bottle that lightly mists. The fan blades are made from soft pliable plastic for safe operation. The clear plastic water reservoir holds up to 11 oz. of liquid.
8875 | Soft Feel Color Blend Sunglasses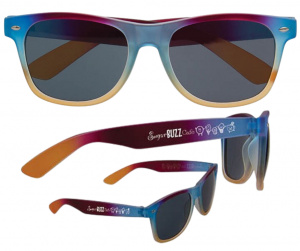 Protect their eyes with these sunglasses and make them look good doing it. Broadcast your brand with bold, vibrant and colorful frames with a velvety soft-feel finish. Pricing includes a full or partial imprint on both arms. Each pair of sunglasses provides 100% UV protection and features shatter resistant lenses.
DCQS3 | Deluxe Grilling Scraper & Flippers Set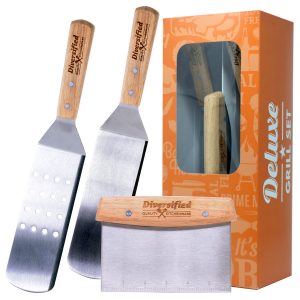 Blackstone and other flat grills are becoming really popular! We're excited to showcase this new-to-the-industry product! This deluxe grilling set contains two flippers and a scraper/chopper. One flipper is a solid blade, and the other is a perforated blade. Both feature a beveled edge for scooping food on a flat-top grill or surface. These grilling tools can be bought individually or as a set.
Prepare for summer and show off your brand with these fun BBQ-friendly promos!