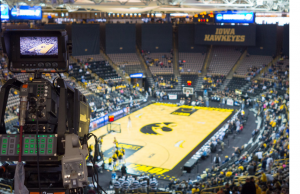 I'm a proud University of Iowa Women's Basketball season ticket holder, so you can imagine I was disappointed with the outcome of the national championship game. When I started at Bankers in the fall of 2021 I was new to Iowa City and still trying to find my place in the community. One day at work your Old Sage, Bill Bywater, had extra tickets for a basketball game that he wasn't able to use. I jumped at the opportunity for a night out at Carver-Hawkeye Arena. My fiancé has been an Iowa fan since birth, but I'm an Iowa State class of '21 grad and was unsure about this whole "Hawkeye thing." Little did I know that first game was going to change so much of my life. I fell in love with women's basketball and this team. My fiancé and I didn't miss another game that season and signed up to be season ticket holders for the 2022-2023 season. I was lucky enough to see our same five starters for the last two years. They're a force to be reckoned with and I'm so proud of the year the team has had. I love my alma mater, but you can consider me a full-fledged Hawkeye now. For the first time in program history, our women's team made it to the NCAA championship game. While the outcome wasn't what Iowa fans were hoping for, the Hawkeyes reached many milestones and broke records in ways that haven't been seen before. Carver-Hawkeye Arena holds up to 15,000 fans. This team sold it out for the NCAA tournament first and second round in 53 minutes. As a team they were Big 10 Tournament Champs and named a #2 seed in the NCAA tournament. The Women's NCAA championship game sold out even with Taylor Swift's Eras Tour in town. Even better, ticket prices for the women's championship were more expensive than the men's this year. That's a major milestone.
Caitlin Clark averaged 31.8 points per game and scored 191 total points in the NCAA tournament. The previous record was 177 by Sheryl Swoopes in 1993 for women and 184 by Glen Rice in 1989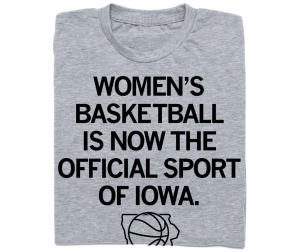 for men. Caitlin had 60 total assists which was a new record for women (men's record is 61). In the game against Louisville, she dropped 41 points/10 rebounds/12 assists making her the first player in NCAA tournament history (men's or women's) with back-to back 40-point triple doubles. Caitlin and Monika Czinano both surpassed 2,000 career points this year. It was the first time in Big Ten history that it's been done in the same season by teammates. McKenna Warnock also exceeded 1,000 career points, making her one of only eight Iowa women's players to reach this goal.
I might be a bit biased and want to shout their successes from the rooftops, but there is something you can learn from each Iowa player that will help lead you to success in any field:
Caitlin Clark – Leadership
Caitlin fearlessly leads her team on the court and they respect her because of the hard work she puts in. Iowa can count on her because she's reliable and not afraid to take charge. When the team wins, she highlights her teammates' accomplishments – with specifics and calling them out by name. When they lose, she takes responsibility and reinforces how proud she is of her team. A great leader spreads the wealth in good times and owns up to their mistakes that contribute to a loss in bad times.
Monika Czinano – Specialize in What You do Best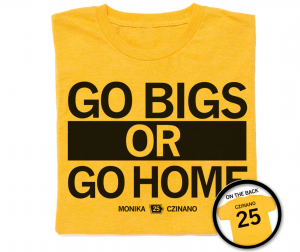 In the game against Georgia, Monika scored 20 points without dribbling the ball once. This was partly due to her teammates' laser passes, superior coaching by assistant coach Jan Jensen, and the rest was due to her hard work in practice. A shirt was made that says, "Zero Dribbles, Zero Problems, Czinanooooo." The drawing out of her last name represents how the announcer at home games affectionately yells her name when she scores a basket. That's something I'm really going to miss next year. Major kudos to Monika for her selflessness and sportsmanship when she fouled out towards the end of the LSU game. It was her last game as a Hawkeye and her first instinct was to go to Addie and tell her "you've got this," instead of being upset about the ref's call.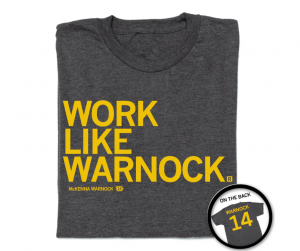 McKenna Warnock – Be Aggressive in your Efforts
McKenna is a star three-point shooter but makes a big difference when it comes to rebounds and jump balls down in the paint. She's not scared to get her hands dirty and fight for her team. The determination is clear to see on her face.
Gabbie Marshall – Mix it up, Make them Remember your Name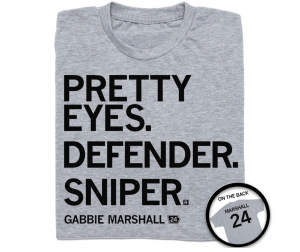 Gabbie is known for many things. Even being the "cute little one with the eyes, who is that?….Cute eyes, pretty eyes" (as she was referred to by Georgia's coach). To start out the NCAA tournament, Gabbie was making three point baskets left and right. In fact, she made five in the game against Georgia. Her shooting percentage was higher than it had been all season. Her real grit came when the team was struggling to make shots in the last game against LSU. Gabbie shifted gears and locked in her outstanding defense as another way to help her team.
Kate Martin – Keep a Level Head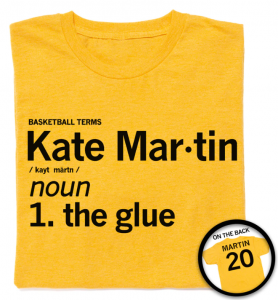 Kate has been referred to as "the glue for this team numerous times. She's a senior coming back next year for her Covid year, so she has learned the patience and confidence that allows her to see the game from a level-headed perspective. She's the first person to say a few motivating or reassuring words when her teammate messes up or is getting passionate on the court. She's a rockstar when it comes to physical game-play, but her mental game is off the charts.
Molly Davis – Lay it all on the Line
Molly is a star player for many reasons, but possibly the most impressive is her dedication to finishing the play. She's a reliable game changer and always makes her minutes count. Most notably in the Big 10 tournament against Ohio State when she sacrificed herself for a hard half court pass from Caitlin to make the layup. It's a play I'll not soon forget.
Sydney Affolter – Consistency
Sydney came in off the bench to play crucial minutes in tight games. She's underrated for her ability to hit threes, free throws and make rebounds. I'm excited to see what's in store for her next season.
Addie O'Grady – Get Up and Go!
Addie is going to be the next generation of Iowa Bigs for the 23-24 season when Monika is gone next year. She has been a consistent, unwavering back-up when our starters find themselves in foul trouble. She goes in and gets the job done, even when she is coming off the bench cold. That's hard to do.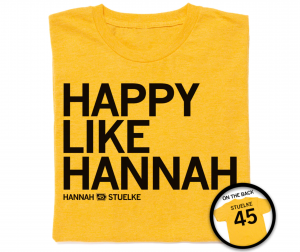 Hannah Stuelke – Stay Positive, Love what you Do
I have a "Happy Like Hannah" t-shirt for a reason. Hannah is a freshman this year and came out hot. She plays tough games with a smile on her face and it's easy to see she loves the game of basketball.
Sharon Goodman – Be Your own Cheerleader
Sharon is known for being the first one to celebrate the team's accomplishments from the bench. Her towel is always waving and letting her teammates know they did well. Sharon was also awarded for having the highest GPA out of all the players in the NCAA tournament final four. That's something to be proud of.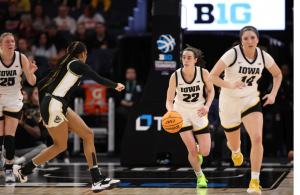 Coach Lisa Bluder – Prep work
Lisa Bluder has a wealth of knowledge when it comes to basketball. This year we've really been able to see the impact her plays have in game situations. You may remember the last minute play to win the game against Indiana. The players worked to get open and Caitlin scored a three-pointer. It's obvious that Coach has been putting in the time (credit to her staff as well) to create amazing plays that this team can execute.
I'm definitely biased, but there is so much to learn from this group of women and the way they play basketball. We know promos help create memories and now NCAA athletes can profit from their name, image and likeness. These shirts are  created when enough fans request shirts for a specific player and part of the money goes back to the player. If you love them like I do, you can find all of these shirts on the RAYGUN website and support them.