If you're like me, you can't escape the Barbie craze going on right now. I can't even remember seeing the movie trailer once, yet other kinds of advertising are everywhere you look: tv commercials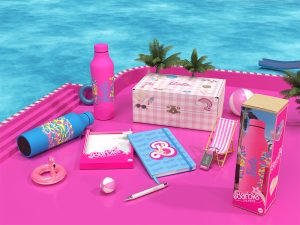 (Chevy and Progressive Insurance), every social media app known to man, radio, music streaming platforms, (Dance the Night by Dua Lipa has been stuck in my head for days and is in the top trending songs) etc. I even noticed old Barbie movies in the "trending now" section of my Netflix recommendations. The advertising student in me is very impressed with Barbie's marketing team strategy. There has been so much success that they have brands paying them to collaborate, which only brings more attention to the movie. There was backlash in the past several years regarding the body image Barbie portrays. This Barbie movie was very obviously an attempt to relaunch Barbie as someone girls and women can see themselves as. In the movie, everyone is "Barbie" no matter what they look like. With the buzz surrounding the movie, brand and merch – it's safe to say their mission was accomplished.
Here's what industry leaders had to say about pink in promo:
Trend Watch: The Barbie Effect
A vibrant and powerful color has taken center stage – pink! With the highly anticipated Barbie movie captivating audiences worldwide, pink has emerged as a dominant color trend, not only influencing the world of fashion and lifestyle but also leaving its mark on branding and promotional products. This iconic hue is capturing the hearts of consumers everywhere, ushering in a new era of Pink Barbie Merch that celebrates the beloved cultural icon.
There are many other big-name brands that have delved into the world of Barbie merch. From renowned fashion houses to popular beauty labels, countless brands have been inspired by the iconic doll to create their own unique and fabulous Barbie-themed collections.
Suppliers Following Barbie Trend
The Barbie trend has not gone unnoticed in the world of promotional products. Leading suppliers in the industry are catching up with retail fashion brands by introducing pink shades. Just like the fashion world, promotional product leaders are incorporating vibrant hues, reflecting the popularity of the Barbie trend this year.
So, what exactly is Barbie pink? The Barbie brand has its own signature Pantone shade: PMS 219C, a vibrant magenta. The color has been a trademark of the brand for decades, but it seems everyone is starting to associate more shades with Barbie than just that one bubblegum and hot pink, for example.
The pink Barbie trend is projected to be popular at least through the end of the year. Suppliers are being asked to provide more products in shades of pink. Hop on the trend now! How can you implement the Barbie phenomenon into your marketing campaigns? It's easy! Change your pen color to pink for the next few months and create a buzz, build brand loyalty and spark conversations. Every interaction with these products becomes a mini experience, reinforcing the connection with the brand and the emotional attachment to the movie. Everyone hands out pens that are neutral colors. Help yourself stand out from the pack. People subconsciously associate pink with Barbie, making it easy to benefit from the popularity with this small change to your physical advertising.