With thanks to our friends at KoozieGroup!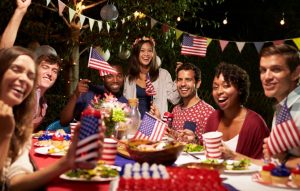 More than three-quarters of consumers typically celebrate Independence Day with cookouts, picnics, fireworks, parades, and travel. In 2020, fewer people attended community gatherings and instead opted for at-home celebrations to feel safe and adhere to guidelines put in place due to the pandemic. Even though the parties looked different, those who celebrated still spent an average of $76 for the holiday.
The upcoming Fourth of July holiday offers an excellent chance for you to connect with your patriotic audiences (especially those who are already planning to spice up their celebrations with red, white, and blue swag) and celebrate your own patriotism as well. Check out four trends that are heating up for summer's biggest holiday to help align your promotional campaigns with what your customers want.