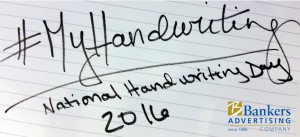 Handwriting is a true art form. Sadly, due to our our heavy use of technology, its seldom appreciated these days. Here at Bankers, we want to celebrate the importance of handwriting. For children, learning how to write also helps teach them self-expression.  For adults, even in a world brimming with technology, handwriting remains a primary and very personal communication tool.  And… naturally… um… we sell branded pens. We heart pens! I mean really… who doesn't have a *favorite* pen?!
I don't know about you, but with all the typing I do, my handwriting has suffered. It's always a good idea to keep such skills in check. Here are some steps I plan to take to improve my handwriting.
Handwriting is such a personal thing. We want to see yours! Enter to win some freebies by sending us a pic.
There is how to enter
Write something cool on anything
Comment on our Facebook post and #MyHandwriting
Post on Facebook and #MyHandwriting
Tag us on Twitter @BankersAdCo and #MyHandwriting