Trade shows and exhibitions provide businesses and organizations with a unique opportunity to see a large number of people, face-to-face in a short amount of time. It allows for personal interaction with their brand and to hear their story. Over the past few years, reports from the Center of Exhibition Industry Research (CEIR) state attendees come to these events intending to buy. They found that 91% of visitors feel that they get more useful buying information by attending a show and that 75% buy as a result of the information gathered at the event.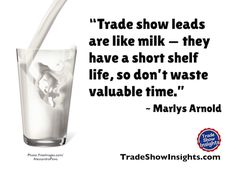 Get started with a pre-show mailing. A recent study indicates that 76% of attendees plan their booth visits in advance. Don't forget the promotional item as a gift for stopping by either. Booth traffic can increase up to 30% with a pre-show mailing offering a promotional item as a gift for stopping by.
Your staff at the show is the face of the company and will be the first impression of your brand. It's important that your team has a brand conscious, professional look and an easily identifiable uniform.
Giveaways, traditionally a sample or a promotional item, are almost expected at trade shows. A relevant, unique and fun item can create a buzz around your customer's booth.
After the event is where the money is made and, according to the CEIR, 80% of exhibitors do nothing. After investing in attending an event, it would be a tragedy to waste the effort and expense by not following up on the leads and contacts made. As your Bankers consultant to help you create a thank you package or mailer so you can "strike while the iron is hot".
Remember, your consultant can help you with signage, displays, apparel (uniform), lanyards & badges, totes, giveaways and more. Browse ideas here.
Here's to a successful Tradeshow Season!