Web Specials from Bankers Advertising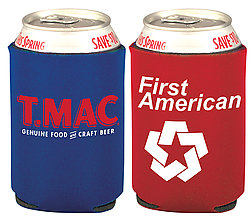 Coolie - 1 color, 2-sides
This classic coolie is a must-have for outdoor activities - make sure your logo is always in hand! Coolie Imprint Area: 3" x 3" Sides.
Expiration Date:

07-17-2018
Colors:

Coral, Placid Blue, Mint Green, Black, Red, Maroon, Navy, Turquoise, Yellow, Neon Pink, Lime, Grey, Neon Blue, Royal, Charcoal, Robin Egg, TX Orange, Pink, Purple, Kelly Green, Khaki, Crimson, Brown, Spruce, White, Orange, Magenta.
Setup Charge:

$40
Item Number:

1000B
Miscellaneous Information:

Regular price is $0.59
Prices are subject to change without notice. Contact your Bankers Advertising Promotional Consultant for more information.
Can't find what you need? Contact your Bankers Promotional Consultant to select the right promotion to meet your needs.