Web Specials from Bankers Advertising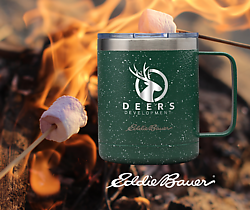 Eddie Bauer® Windom 12 oz. Vacuum Insulated Camping Mug
Warm their hands and their hearts when they fill this beautiful, scratch resistant, double wall stainless steel mug with piping hot coffee or cocoa. Features a metal handle that makes it easy to use and carry, is compatible with most single serve coffee machines. The mug has a powder coat finish with speckled design and pressure-fit lid with a sliding closure. It will keep your hot drinks hot and cold for hours. Take this mug on your next outdoor adventure or enjoy a drink right in your own backyard. BPA Free and FDA compliant.
Expiration Date:

11-30-2023
Colors:

Black, Green, Burgundy, Navy, White
Setup Charge:

$62.50
Product Dimensions:

1.5" (H) x 2" (W)
Item Number:

CL1000
| Quantity | 24 | | | |
| --- | --- | --- | --- | --- |
| Original Price | $23.00 | | | |
| Price | $15.00 | | | |
Prices are subject to change without notice. Contact your Bankers Advertising Promotional Consultant for more information.
Can't find what you need? Contact your Bankers Promotional Consultant to select the right promotion to meet your needs.