Keep the future bright by promoting with sunglasses. Promotional sunglasses are a perennial favorite for branded marketing campaigns because of their reach, usefulness and target demographic desirability.

Sunglasses are a great promo idea for almost any campaign. Their practicality makes them an attractive gift for everyone. Include them in your campaigns for all summer events: fairs, parades,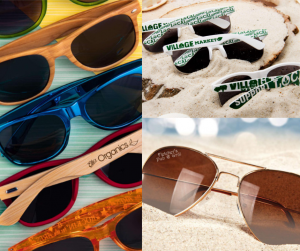 swimming pools, fundraisers, awareness campaigns, appreciation events, team spirit and picnics.
Help your client SHINE with color changing glasses, mirrored lenses or cool imprint locations and designs. You want it, we've got it: bamboo, patriotic, camo, rainbow, tie-dye, soft feel, metallic and more. There are so many styles to choose from: malibu, polarized, aviator and sport.
Checkout more styles and ideas here!