Taylor Swift is #34 on the list of wealthiest women in the U.S. with a net worth of $740 million. She recently finished the first leg of her U.S. "Eras" Tour. I think there is something

everyone can
learn from how Ms. Swift and her team have marketed her brand to create her empire.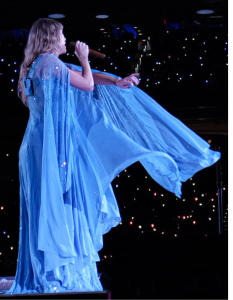 Are you Ready for It? Let's start with the basics. Taylor Swift has released 10 albums in her lifetime. Each one represents a specific "era" of her life. The 2023 all stadium tour is called The Era's Tour because it features top hits from each album. Fans took this idea and ran with it. Each album has its own distinct color theme and style as Swift reinvents herself with every new release. From a marketing standpoint Swift is a Mastermind because with the differences between the eras, they are still easily identifiable as her brand. This was seen when she chose outfits to perform in from each album with inspiration from her songs and life at that time. Concert attendees took to social media to showcase their own versions.
On September 12th at the Video Music Awards, Swift was nominated for 11 awards and took home a record breaking nine of them. This secured her spot for most wins in one night and second-most overall wins with 23 to date (right behind Beyonce who has 26). Swift took home trophies for Video of the Year, Artist of the Year, Song of the Year, Best Pop, Best Direction, Best Cinematography, Best Visual Effects, Show of the Summer, and Album of the Year. Last year she made history by becoming the first artist to win Video of the Year three times and this year she made it four.
We've identified five major takeaways you can adopt as a strategy and avoid missing out like a Foolish One:
1. Appeal to Emotions – Dig Deeper
One of the most effective marketing strategies is to create an emotional tie with your medium. Almost every connection Swift makes with her audience is emotional – sharing in hardships and low points or celebrating the highest highs. Each promo offered at her in-person merch truck or online storefront pulls on an emotion like an Invisible String. They can be Tied Together With (A Smile) a song title, lyric or inside joke between her and her fans. They want to leave the event with something to remember it by. Talk through ideas with your promotional consultant to make your campaign more impactful.
2. Offer a Variety – But stick to brand standards.
It's essential that your audience can identify that the promo is for your brand. Swift has done this in a huge way. Each of her 10 albums essentially has its own brand. Whether your colors are Red or Maroon, you want to create promo that is identifiable as belonging to your brand, yet easily integrated into the recipient's daily life and Style if it is a Cardigan or other apparel piece.
3. Exclusivity – Elusive Blue Crewneck
Make every product feel special! There are a lot of similar options on the website that are offered in person at the merch truck but not all are exactly the same or available in both places. There is a blue crew neck sweatshirt that was notoriously sought out because it was only offered at the concerts. Swifties stood in the Daylight for hours waiting to purchase the rare item.
4. Once in a Lifetime – Limited Time Only
This tour and the promotional products offered are special because they won't be around forever. The newest rerecording of her "1989" album comes out in October of this year. Swift has been bringing back the use of vinyl and record players. The album has been available for preorder in the standard baby blue since the announcement but over the last couple weeks there has been a yellow, aquamarine and pink version offered for a limited time of 48 hours. This creates a buzz and excitement for each new product.
The Eras Tour itself is a hot commodity. Before this year, Taylor Swift hadn't been on tour since 2018. After being denied the right to own her music, Swift took matters in her hands and rerecorded them all with the extended name of "Taylor's Version" attached to each song title. Fans theorize that this may be the last time she performs songs from her past albums and rerecordings – making this a must see show and something no other Taylor Swift concert will have. Classic promos are Timeless but trying something new and different at a low quantity will surprise end users and create something special for a select group.
5. Broaden your Audience – Extend your Reach
Swifties that grew up listening to her music are 18-34 years old and attending concerts with their parents, friends and now their children. Swift's music and merch has something for everyone. Your customers are always hoping to extend their reach. Target a new audience or demographic with a product tailored to their general interests or daily routine.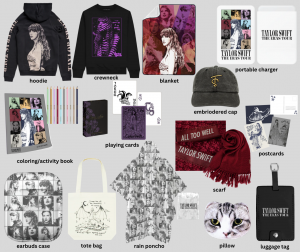 Example:
Some car insurance companies offer a significant discount for not being a Treacherous driver. They track phone usage while driving along with speeding and hard brakes. This means that phones needs to be in a secure place to show that it is not being used. I have a phone stand that fits right into my cup holder and secures Mine for the drive. A product like this would be great for agencies to hand out for new clients or policy changes.
Looking at the list of promos Taylor Swift has on her website, you'll notice that a lot of these items aren't out of the ordinary – they're classic and they work. She offers multiple rain poncho styles so their audience won't get caught in the Midnight Rain. The luggage tag can be used when Swifties are traveling to the concert. The scarf references an emotional song with the title on it and in the color of her album. The pillow is in the shape of her cats face. For someone who doesn't know anything about her, the products can seem random but they leave a Blank Space to be filled in and a hidden meaning like a secret she shares with her fans.
Get inspired and dig deeper into products you want to represent your business. Maybe you'll see Sparks Fly.  Contact your Bankers Promotional Consultant to brainstorm ideas to make the promotional products in your next campaign unique.